Kick-starting new coaching plan
Huaiyin academy is dedicated to training teachers in German system
In the wake of another World Cup qualification failure for China this summer, a new academy in Jiangsu province aims to breathe fresh life into the nation's soccer push.
The Sino-German Football Academy of Huaiyin Normal University opened in Huaian on Sept 23, dedicated to churning out coaches taught to German standards.
They will in turn instruct youngsters in primary and middle schools.
The school will be aided by the Berlin Football Association (BFV) - one of the 21 state offshoots of the German Football Association - and will apply the same methods that have yielded Germany such impressive results on the global stage over the past two decades.
It is the first school of its kind among China's teacher-training centers, known as 'normal universities', as well as the first among all universities in the province.
"The key behind German soccer's success is youth training," BFV vice-chairman Gerd Liesegang said at the academy's opening ceremony.
"Seventeen years ago we were in a slump, but since implementing our youth training system we are one of the best in the world again."
Germany's star-studded senior team needs little introduction and the country's conveyor belt of talent continues to keep rolling for Joachim Low's reigning world champions.
In July, the Under-21s won the European championship and an experimental senior squad secured the country's first Confederations Cup title.
"After Euro 2000 we faced a similar situation that China faces today. With a more scientific youth training system, I believe China's soccer level will be greatly improved within 10 years," Liesegang said.
"Chinese soccer needs a great number of trained coaches, especially at the grassroots level. The new academy is part of a high-level drive to learn from the rest of the world."
According to the agreement, Huaiyin Normal University will be responsible for recruiting students and providing training venues and equipment.
The BFV will provide professional courses of between 24 and 30 months to produce UEFA B- and C-level coaches, and will send two former professional players-turned-lecturers to instruct at the academy.
Successful graduates will obtain both college undergraduate diplomas and certificates issued by the BFV.
It will also streamline the process for graduates to obtain licenses for employment as teachers in primary and middle schools.
Around 80 prospective teacher-coaches nationwide, mainly from East China, have already enrolled.
During their four-year term, they will study soccer theory, skills and coaching, as well as touching on the business end of the sport.
As part of President Xi Jinping's plan to transform the nation into a world soccer power by 2050, China and Germany signed a five-year agreement last November to boost soccer cooperation between the two countries.
Xi reaffirmed his commitment to the deal two months ago when he and German Chancellor Angela Merkel attended a friendly match between young players from the two countries at Berlin's Olympic Stadium.
However, a lack of qualified grassroots coaches has been identified as a major weakness in China's grand plan.
"In the past, there was little attention paid to cultivating soccer coaches for schools," said Lu Yu, an official from the State General Administration of Sports.
"As a result, it wasn't uncommon to see teachers of volleyball or swimming, even teachers of Chinese and English classes, teaching soccer at our primary and middle schools.
"If the Sino-German academy succeeds in applying advanced foreign youth training methods to our country's situation, then we should see progress," added Lu.
He also revealed the program will be expanded next year, with some other universities, including Beijing Sport University, training grassroots coaches.
cuihaipei@chinadaily.com.cn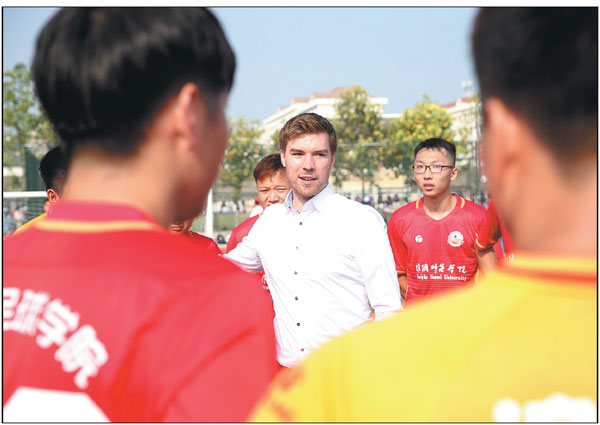 Jan Scharlowsky, youth training director for the Berlin Football Association, instructs prospective coaches at Huaiyin Normal University in Huaian, Jiangsu province, last Saturday.Provieded to China Daily 
Most Popular
Highlights
What's Hot