Association applies to add mahjong to Winter Olympics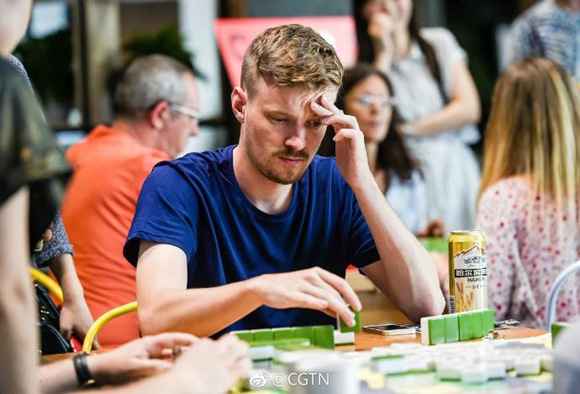 A man learns to play mahjong during a class in Chengdu, Southwest China's Sichuan province on Saturday. The student was one of around 15 foreigners who took the class taught in English. [Photo/CGTN Weibo account]
Mahjong, a traditional Chinese game, may make an appearance at the Olympic Winter Games in Beijing in 2022, Chinese news site thepaper.cn reported.
"We are also applying to the International Olympic Committee to include mind sports in the Olympic Winter Games," said Chen Zelan, president of the International Mind Sports Association (IMSA).
The International Olympic Committee has been considering whether to expand coverage of the Olympic Winter Games and add some indoor events, Chen said.
In April, the IMSA announced the idea of including Mahjong, a game that reflects traditional Chinese chess and card culture, as one of IMSA's mind sports, along with five other games: chess, bridge, draughts, go, and Xiangqi.
So far, only bridge and chess have been accepted by the International Olympic Committee, Chen said.
Wu Guoliang, president of the Mahjong International League and also vice president of IMSA, said at a forum that they were trying to introduce the competition system of bridge into Mahjong.
"This will eliminate the contingency in Mahjong and help promote it as a mind sport able to be accepted by international players."
Chen also believed that a unified set of rules, normalization and the elimination of contingency and gambling in the game were important in promoting Mahjong as a mind sport.
IMSA was also preparing to release an international mind-sport index to promote the development of mind sports across the globe. "Some countries' understanding of mind sports is still weak," Chen said. "We hope the index will encourage more governments to pay attention to mind-sport development."