Wu Yibing wins boys' singles title, brings cheer to Chinese tennis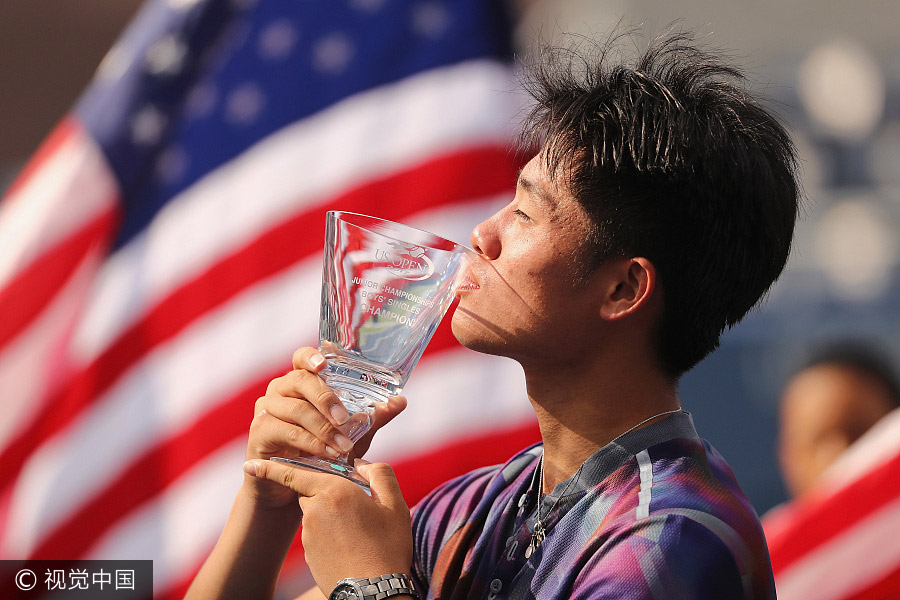 Wu Yibing kisses the trophy after capturing a milestone Grand Slam boys' singles title at the US Open in New York, on Sept 10, 2017. [Photo/VCG]
Wu Yibing brought a smile to Chinese tennis after capturing a milestone Grand Slam boys' singles title at the US Open.
The 17-year-old second seed from Hangzhou became China's first boys' Grand Slam singles champion by defeating Argentina's top-seeded Axel Geller 6-4, 6-4.
"I think this is proving ourselves and showing the world that Chinese boys can be good," Wu said, "and I hope I can be the first Chinese to be ranked Top 100."
In doubles, Wu joined with Taiwan's Hsu Yu-Hsiou to become the first all-Asian pair to capture the US Open boys doubles crown, defeating Japan's Toru Horie and Yuta Shimizu 6-4, 5-7, 11-9.
After China's Li Na retired from professional tennis in 2014, Chinese tennis faced a shortage of talent. Wu's win shows Chinese tennis is on the rise.
Related story: Boys' US Open champ new hope for tennis