Guliyev shocks favorite Van Niekerk in 200m at worlds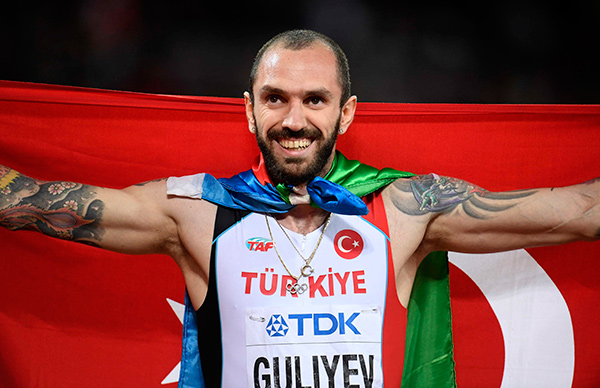 Ramil Guliyev of Turkey celebrates winning the Men's 200 meters final at World Athletics Championships in London Stadium, London, Britain on August 10, 2017. [Photo/Agencies]
LONDON - Ramil Guliyev won Turkey's first gold medal at the 2017 IAAF World Championships here on Thursday as he shocked title favorite Wayde Van Niekerk of South Africa in men's 200m.
This was Guliyev's first title in world's major events, as his previous best result in the event was a sliver medal at the 2016 European Championships.
"This is not a shock, but it does not feel real. I'm so proud of the title, which means a lot to me," said Guliyev.
Guliyev made a decisive comeback in the final sprint to finish the race at 20.09 seconds, bettering Van Niekerk by two hundreds of a second.
Van Niekerk, seen as the next superstar as Usain Bolt with 400m Olympic gold medal, world champion and world record in hand, also showed huge joy after his second finish.
Jereem Richards of Trinidad and Tobago also clocked 20.11 but had to settle for the bronze medal on photo finish.
"I always want to bring a medal back home for my mom, so this means a lot to me," commented Richards.
Botswana's Issac Makwala grabbed the spotlight on Wednesday as he qualified for semi-finals with a solo run after being declared fit for the race. He finished sixth in the final.
"I've had one of the craziest championships journeys ever," he pointed out.