Feng firmly focused on future
China's No 1 heading to US Women's Open
It wasn't a perfect weekend for Feng Shanshan on home soil - but it was positive enough to boost the Chinese No 1's confidence ahead of the US Women's Open, which opens on Thursday at Trump National in New Jersey.
The local star set the pace over the first two rounds of the Kumho Tire Ladies Open in Weihai, Shandong province, but a lackluster final round on Sunday cost her a chance at victory and left her tied for fourth.
Still, considering the 27-year-old failed to make the cut at the Women's PGA Championship two weeks ago, Weihai marked a nice rebound.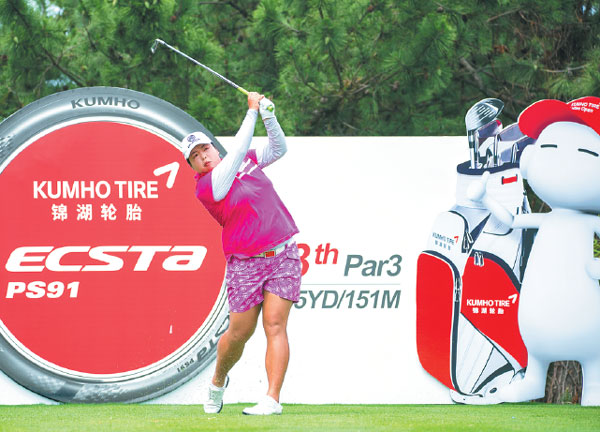 Feng Shanshan tees off during Sunday's final round of Kumho Tire Ladies Open in Weihai, Shandong province. Feng finished tied for fourth in the lead up to this week's US Women's Open in New Jersey. Provided To China Daily
"It seems that every time at Weihai I have a good start but can't hold a wire-to-wire lead," said Feng, the world No 6 who finished runner-up in 2015 and last year.
"I think I tried my best on every shot. This course is similar to the courses for the US Women's Open, which are usually a bit narrow, so it was a perfect chance for me to warm up for the major. I hope that I can putt better in New Jersey to make up for my misses here."
South Korea's Park Bo-mi won the tournament in a one-hole playoff against compatriot Lee Ji-hoo. Feng was the only Chinese to finish in the top 10.
"South Korea is really powerful in golf, especially in its cultivation of reserve talents. So many talented Korean golfers come out in succession that now I can barely find a familiar face that I met on the course three years ago," said Feng. "China should take note of that and concentrate on training our next generation."
A total of 12 Chinese golfers advanced to the final round at Weihai, more than those at all the previous tournaments on the Shandong course.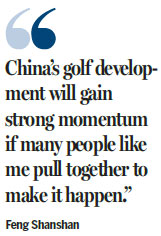 "This progress really lifts me and I am confident that golf is really growing in China," said Feng. "Many of our junior golfers are showing skills comparable to foreign juniors. What they are lacking is ample tournament experience. I hope it will soon be possible for them to enter more tournaments abroad."
The 2016 Olympic bronze medalist operates her own golf workshop and academy, providing free introduction to the sport.
"I would like to fuel China's golf development as much as possible within my capacity, but as an individual, my contribution is limited in growing the whole golf sector," Feng said.
"China's golf development will gain strong momentum if many people like me pull together to make it happen. It's time for us Chinese to flex our muscles on the course."
Feng's long-term plan is gearing up for the Tokyo 2020 Olympic Games.
"I dream of winning gold in 2020," she said. "After that, provided that my physical quality allows me to continue my professional career, I'll keep playing."
Maintaining the mental edge
Park Bo-mi, the 23-year-old South Korean who won the China LPGA's Kumho Tire Ladies Open at Weihai, Shandong province, manages to maintain the same serene pace on the golf course that she follows in daily life.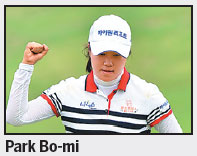 She describes herself as an otaku who, when she's not on the course, likes to spend the entire day listening to pop music or watching romance films.
"I got a bit edgy before teeing off for the final round, but fortunately my father told me to relax and just enjoy the game ... and I made birdies on four of the first five holes," said Park, who beat compatriot Lee Ji-hoo with a par in their one-hole playoff on Sunday.
"I'm not an emotional player who will shout or cry when I win or lose. I like peace and quiet. That's a mindset I have developed from listening to music and watching films."
Park drained a 20-foot birdie putt on the final hole of regulation to set up the playoff, then rode the momentum to her first tour victory.
"A positive mindset makes all the difference; I think that's what helped me win," she said.