With bad knee, 3-time major champ Wawrinka out at Wimbledon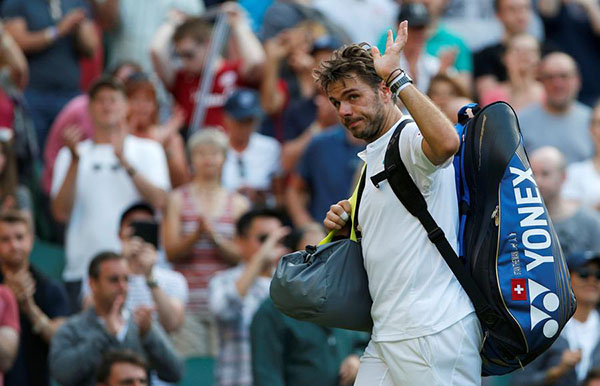 Switzerland's Stan Wawrinka reacts after losing his first round match against Russia's Daniil Medvedev during Wimbledon Open in London on July 3, 2017. [Photo/Agencies]
LONDON — So much for the idea that Stan Wawrinka might be able to complete a career Grand Slam at Wimbledon this year.
Didn't even make it out of the first round.
An owner of one championship from each of the other three major tournaments, and the French Open runner-up just three weeks ago, Wawrinka was bothered by his left knee and lost 6-4, 3-6, 6-4, 6-1 to Daniil Medvedev at Centre Court in the first round at the All England Club on Monday.
Wawrinka was seeded No. 5 and ranked No. 3. He iced his knee during changeovers and never was able to summon his best tennis.
"Apparently grass is not the best surface for my knee," Wawrinka said with a grin. "I need to figure it out exactly, what's the problem now, what I'm going to do, and come back on the tennis court when I (can play) without any pain."He said his knee has been a problem off and on this season, including at the Australian Open in January, when he made a run to the semifinals.
Wawrinka said he was a bit hesitant about even playing at Wimbledon, but he thought the knee seemed better during recent practices.
He had no answers when asked what comes next, including how much time he might need to take off.
"What's sure is that I'm going to take the time I need to feel ready again physically," the 32-year-old from Switzerland said.
Wawrinka won the Australian Open in 2014, the French Open in 2015 and the U.S. Open in 2016. But he never has been able to excel at the All England Club, where his best showing is getting to the quarterfinals and his career record is now 18-13.
This was Wawrinka's sixth defeat in the first round at Wimbledon.
And just how big a victory was this for Medvedev, a 21-year-old Russian who is ranked 49th?He dropped to his knees and kissed the Centre Court turf afterward.
This was the first time he had won a Grand Slam match. A year ago at Wimbledon, Medvedev lost in the first round of qualifying.
"So even, I guess, if I didn't beat Stan, it would be one of the biggest wins in my life. My first top-10 win. I have no words to describe this," Medvedev said. "I guess this memory will be with me forever."
AP