Discussing crash, Venus Williams sheds tears at Wimbledon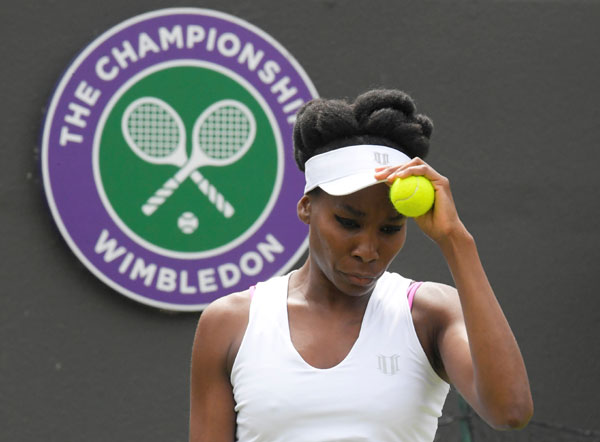 USA's Venus Williams reacts while playing her first round match against Belgium's Elise Mertens during the Wimbledon Championships in London, Britain, July 3, 2017. [Photo/Agencies] 
LONDON — Venus Williams wiped tears from her eyes during her Wimbledon news conference Monday.
She shook her head, fiddled with her hair and sat, silently.
The wave of emotion came as Williams attempted to answer a question about the two-car crash that police say she caused June 9 in Florida; a 78-year-old passenger in the other vehicle died 13 days later. Williams' 7-6 (7), 6-4 victory over Elise Mertens at the All England Club was the five-time Wimbledon champion's first match anywhere since the accident — and the first time she has spoken about it publicly.
Well, tried to speak about it. She began by saying: "There are really no words to describe, like, how devastating and ..."Williams paused.
"Yeah, I'm completely speechless," she briefly continued.
"It's just ...""Yeah, I mean, I'm just ..."Then she sat there, silently. Eventually, the moderator seated next to Williams temporarily halted the news conference, allowing the 37-year-old American to leave the room for a bit. She huddled nearby with her older sister, Isha, before returning. When the proceedings resumed, the moderator asked that the topic of the crash be avoided, saying, "Venus is willing to take a couple more questions about other things. Tennis, perhaps."The 10th-seeded Williams' return to action, and difficulty in addressing the off-court matters with the media — just last week, the police report was released, and a day later, the estate of the man who died sued her — were the most noteworthy happenings on Day 1 at the grass-court Grand Slam tournament.
There was, though, on-court news, too, of course, starting with this: No. 3-ranked Stan Wawrinka, a three-time major champion and the runner-up at the French Open just three weeks ago, dealt with a bothersome left knee and bowed out 6-4, 3-6, 6-4, 6-1 to Daniil Medvedev, a 21-year-old Russian ranked 49th who had never won so much as one Grand Slam match in his career.
"For sure, I wasn't feeling the way I wanted to feel," Wawrinka said.
"Apparently," he said with a grin, "grass is not the best surface for my knee."Wawrinka has won each of the other majors once apiece but Wimbledon has given him fits over the years. He has yet to get past the quarterfinals and this was his sixth exit in the first round.
Another seeded man hobbled by an injury departed when No. 20 Nick Kyrgios, a talented if temperamental Australian, stopped playing because of a hip problem. He dropped the first two sets against Pierre-Hugues Herbert of France before calling it quits.