Germany young gun Goretzka garnering global attention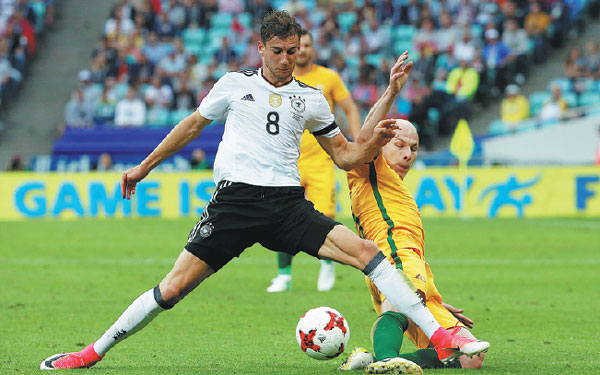 Germany's Leon Goretzka fends off Australia's Aaron Mooy during their Confederations Cup clash on June 19. Goretzka's stock is rising fast after impressive performances in Russia. Reuters
SOCHI, Russia - With his lung-bursting runs, shrewd vision and solid link play, Leon Goretzka's reputation as Germany's midfield dynamo is growing by the game.
Thanks in no small part to a change in diet.
Once lethargic and injury prone, Goretzka eradicated dairy, pork and nuts from his menu and he's never looked back.
A debilitating bowel inflammation that used to slow his recovery from ailments has been soothed by the nutritional changes and the 22-year-old midfielder is now one of Europe's most in-demand players.
"I have changed my diet in the extreme," Goretzka said on Saturday at the Confederations Cup. "It's been the case for a year now."
Having been denied a part in Germany's World Cup-winning campaign in Brazil in 2014 due to injury, Goretzka has been making a resounding case for inclusion in the squad for the title defense in Russia next year.
He has excelled as a midfield anchor in an inexperienced "prospect squad" in Russia as coach Joachim Low chose to rest many of Germany's big names, such as Mesut Ozil, Thomas Muller and Toni Kroos.
After playing a role in all the goals in the opening 3-2 victory over Australia in Group B, Goretzka opened his international account to earn a 1-1 draw with Chile on Thursday.
"To do to well at this level requires more than a match," Goretzka said. "I am certainly not the kind of player who always scores two goals in a single match. People should get used to that and not expect that of me."
Goretzka is trying to downplay the hype, shutting out the plaudits in the same way he ignores media criticism.
"I am not someone who is impressed by media reports and the hype that is generated about how I play and what kind of player I am," he said ahead of Sunday's game against Cameroon.
"I do know that my performance at the moment is high and is not influenced by what the newspapers write about me. I am certainly going to keep level-headed and keep my feet on the ground no matter what."
Low has no qualms about talking up Goretzka's influence on the team as he prepares to make only his eighth international appearance.
"He has delivered," Low said. "He has played very well in both matches. Given his youth he is already quite a personality in this team and it seems to be clear that he is carefully planning the next steps in his career."
That could involve a move from Schalke, who he joined from Bochum in 2013. Both Bayern Munich and Arsenal are being linked with a move for Goretzka in the summer transfer window.
Reports in Britain have suggested the Gunners are preparing an offer of around $27 million for Goretzka, whose technique, pace and versatility in midfield has made him a valuable commodity.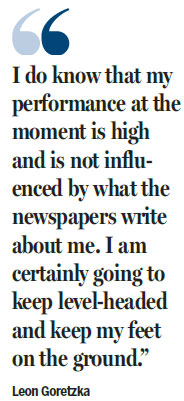 Low has been offering guidance to a player who is already displaying maturity beyond his 22 years.
"We had long conversations and talked about different possible scenarios because I wanted to know what he was thinking and what kind of opportunities he envisaged," Low said at Fisht Stadium in Sochi. "I certainly spoke my mind but it was a personal, intimate conversation.
"He said he wouldn't focus on his future on clubs right now, but he is intelligent enough to come up with the right solution for his career."
Peter Neururer, who coached Goretzka at boyhood club Bochum, described his former pupil as a "once-in-a-century talent".
"There is no one comparable in Germany who is endowed with these qualities," Neururer told German's Sport1 television this week.
In 41 Schalke appearances last season, Goretzka scored eight goals and provided eight assists. In a year, Goretzka could leave for free when his contract expires.
The motivation for moving could be to play in European competition ahead of the World Cup, with Schalke missing out on a return to the Europa League after a 10th-place Bundesliga finish.
"I won't talk on possible switches to a different club," Goretzka said. "As soon as there are facts I will be providing them and publicizing them on what my decision is. But now there is no news in that respect."
Associated Press