NFL star Tom Brady 'dreams' of playing football game in China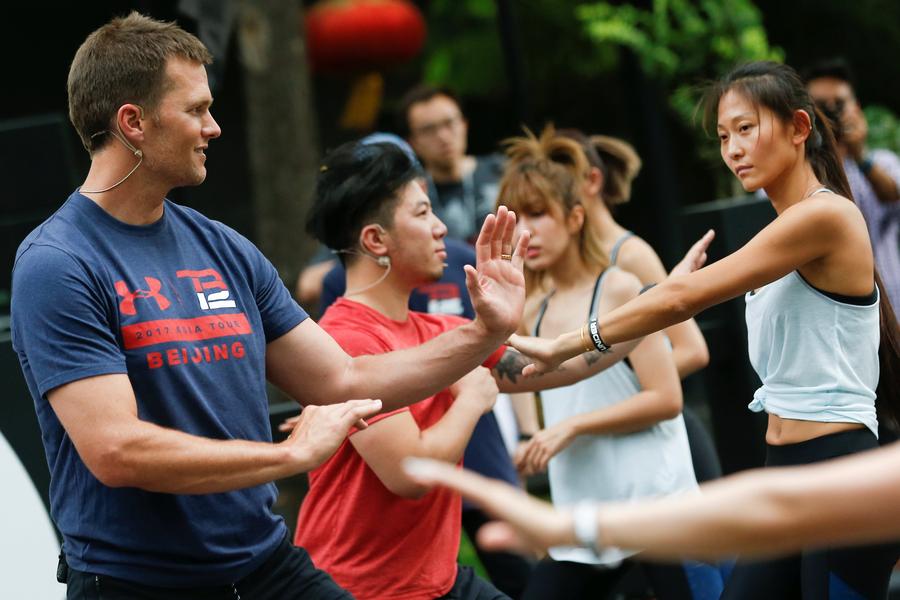 New England Patriots NFL quarterback Tom Brady takes part in a promotional training event in Beijing, China June 18, 2017. [Photo/Agencies]
Five-time Super Bowl winner Tom Brady hopes to one day play an American football game in China, he said on Sunday, on a visit aimed at promoting the sport in a huge potential market.
Like other US sports leagues, the National Football League is trying to build a fan base among China's 1.4 billion people, where the number of viewers watching games on digital platforms is growing rapidly.
NFL Commissioner Roger Goodell said earlier this year the league was aiming to hold a regular season game in China within the next couple of years.
"My dream is to play a game here in China some day," said Brady during his first trip to the country.
"It's just a great event and hopefully a lot of the Chinese people would enjoy it," said the New England Patriots quarterback.
China was scheduled to host a preseason NFL game in 2007 to kick off the one-year countdown to the 2008 Summer Olympics in Beijing, but the game between the New England Patriots and Seattle Seahawks was postponed and ultimately canceled.
The sport lags behind soccer and basketball in China, but the NFL is pushing cooperations with more than a dozen platforms on regular television and online to help reach viewers.
This year's Super Bowl championship - won by Brady's Patriots - was streamed live for the first time in China.
While in Beijing, Brady visited the Great Wall outside the Chinese capital, and joined a martial arts training session. He is scheduled to visit Shanghai and Tokyo this week.
Reuters