Motivated Manny sounds stern warning to Horn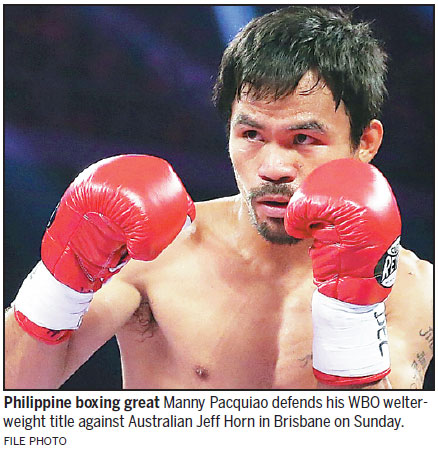 BRISBANE, Australia - Manny Pacquiao was expected to attend church and have a light training session in Brisbane on Sunday after arriving late on Saturday for his July 2 world-title defense against Australian Jeff Horn.
The reigning WBO welterweight champion left his hometown of General Santos City in the Philippines and landed at Brisbane International Airport on Saturday night.
"In all my years of boxing, I have never been as motivated and fired up as this fight," he said after landing Down Under.
"My team is very happy with my preparation. I am looking forward to this. I will be going home as world champion."
He was escorted to his chartered A330 plane - emblazoned with "PacMan" on the back of the fuselage - by military personnel in his homeland.
The 38-year-old Pacquiao was accompanied by trainer Freddie Roach, conditioning coach Justin Fortune, sparring partner George Kambosos Jr, and other members of his entourage which his spokesman said totaled about 160.
"Training is good, we did a lot of hard work, I am very excited for the fans to give a good show to show my best and in the boxing ring," he told Australian Broadcasting Corp. radio.
"Some reports coming out of the Philippines that I haven't been training hard are not true.
"It just happens that when some of our friends came around to our training camp, we weren't doing much and people assumed I wasn't training hard."
Roach, who has trained such goliaths as Mike Tyson, Oscar De La Hoya and Wladimir Klitschko, is confident Pacquiao is in great shape.
"He has the best work ethic in the world. He trains hard every day and we do 48 boxing rounds every day non-stop - just work, work, work," Roach said.
"We are here to win the fight, we don't take anyone lightly."
Pacquiao, who is a Philippines senator, has a career record of 59-6-2 with 38 knockouts. The fight against Horn will be Pacquiao's first defense of the title he won last November with a unanimous decision over Jessie Vargas.
The 29-year-old Horn, 16-0-1, 11 by knockout, is a London 2012 Olympian.
The fight is expected to attract a sellout crowd of about 50,000 at the outdoor Suncorp Stadium in Brisbane. It is scheduled for early afternoon Australian time next Sunday.
Associated Press / AFP