Ex-NBA player Rodman expected to arrive in North Korea Tuesday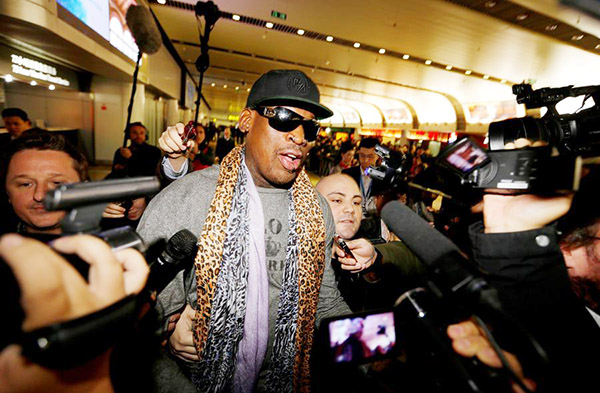 Former NBA basketball player Dennis Rodman speaks to the media after returning from his trip to North Korea at Beijing airport, December 23, 2013. [Photo/Agencies]
WASHINGTON - Former National Basketball Association star Dennis Rodman is expected to arrive in North Korea on Tuesday for a trip the State Department said was not an official US visit, CNN reported on Monday.
Rodman, who met with North Korean leader Kim Jong Un on previous trips to Pyongyang and has called him "an awesome kid," declined to answer questions when he was seen by CNN reporters at Beijing International Airport, the network said.
Tensions have heightened on the Korean peninsula over Pyongyang's nuclear and missile tests and its vow to develop a nuclear-tipped missile capable of hitting the US mainland.
Four Americans are also being held in North Korea, including 22-year-old student Otto Warmbier, who was detained in January 2016 and sentenced to 15 years' hard labor for attempting to steal a propaganda banner.
Representatives for Rodman did not immediately respond to requests for comment. Rodman has defended his travels, saying in an interview with CNN in 2014 they would help "open the door" to the reclusive state.
CNN, citing two unnamed North Korean officials, said Rodman was expected to arrive in Pyongyang on Tuesday, but gave no additional details on the purpose of the trip.
Fox News, citing a senior Trump administration official, reported that Rodman was traveling to North Korea as a "private citizen."
The White House and State Department did not respond to Reuters requests for comment.
Rodman, 56, nicknamed "The Worm" during his playing career and known for his tattoos, body piercings and multi-colored hair, is considered one of the best defensive players and rebounders in NBA history.
He won five league championships with the Detroit Pistons and Chicago Bulls.
Reuters