Chinese teams go wheel-to-wheel in ePrix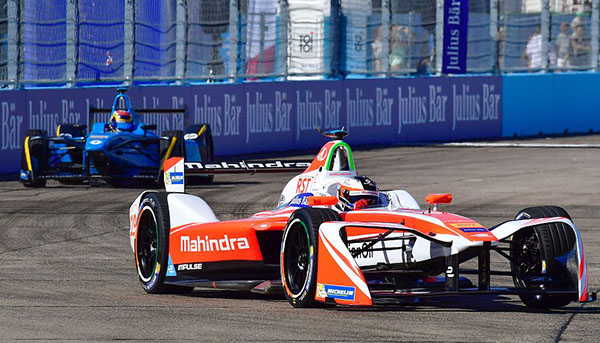 Sweden's Felix Rosenquist (R-Mahindra) who placed second, and Switzerland's Sebastien Buemi (L-Renault) who placed first, compete in the Berlin leg of the Formula E electric car Championships on June 11, 2017. [Photo/VCG]
Three motorsport teams with Chinese backing battled it out on the track at Berlin Tempelhof Airport at the weekend during the third season of the Formula E electric car racing championship, which is also partially China-owned.
In all, 10 teams competed in a double-header, with Berlin hosting the seventh and eighth ePrix of the 12-race season. Around 20,000 fans watched the most silent event in motorsport.
Formula E is pushing for an environmentally friendly future, free of exhaust fumes, and the growl of traditional engines. Chinese companies are increasingly involved.
Last month, Chinese basketball star Yao Ming's company, Yao Capital, and public equity firm China Media Capital together acquired a stake in Formula E Holdings. The multi-million-euro deal made the Chinese investors the third-largest shareholders.
Formula E CEO Alejandro Agag said: "We had the hope that we would get traction in China and now, with Chinese teams and Chinese investors, that is confirmed. In China, electric vehicles are a priority, and they see Formula E as a platform to develop their strategy in electric mobility."
The decibel level reached its modest peak in the afternoons when the race cars barreled around the track, hitting speeds of up to 225 km/h. Each team had two cars on the track, all of which have the same chassis, which is designed by Dallara. They also have identical batteries, which are built by Williams. Since season two, each team has had the option of replacing a McLaren electric motor with its own design.
Swedish driver Felix Rosenqvist won Saturday's race for Indian team Mahindra Racing, and Sunday's ePrix went to championship leader, Renault E.Dams driver Sebastien Buemi.
NextEV NIO, owned by Chinese premium electric car manufacturer NIO, scored points on Sunday when UK driver Oliver Turvey placed ninth, improving on an 11th place on Saturday. Turvey's teammate Nelson Piquet Jr finished 12th in both races. Piquet won the inaugural 2014-15 championship with Team China Racing, which was later taken over by NIO.
"Winning the championship was an amazing feeling,"Piquet said. "Working with Chinese (people) has been an interesting experience. They really believe in what we are doing. They are invested in the team long-term and we want to win another championship."
Techeetah, owned by Chinese electric car company SECA, managed the highest finish out of the Chinese teams when French driver Jean-Eric Vergne finished fifth on Saturday and sixth on Sunday.