No French Open wild card for snubbed Sharapova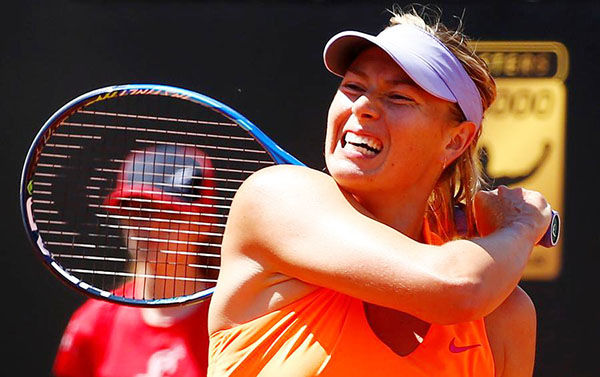 Sharapova returns the ball to Christina Michael of the US at the Rome Open on May 15, 2017. [Photo/Agencies] 
PARIS - Maria Sharapova's hopes of a dream return from doping exile to a third French Open crown were shattered on Tuesday when the Russian was surprisingly refused a wild card by organisers.
The 30-year-old, who conquered all on the Parisian clay in 2012 and 2014 but whose career was rocked by a 15-month doping ban last year, was widely expected to be fast-tracked into the year's second grand slam tournament.
After only returning to the circuit last month, Sharapova's ranking, now at 211, was not high enough to warrant an automatic place in the Roland Garros main draw which starts on May 28, or the qualifying event held the week before.
It meant she needed a favour from the French Tennis Federation (FFT) but in an unexpected development, especially as the French Open is already without pregnant Serena Williams and resting Roger Federer, it took a moral stand that will please some of her rivals but could hit the tournament's ratings.
"You can get a wild card when you return from injury but you cannot get a wild card when returning from a doping suspension," FFT president Bernard Giudicelli said during a news conference broadcast live on Facebook.
"I appreciate the media impact of Maria, I appreciate the broadcasters' expectations but in conscience, it was not possible to go beyond the anti-doping code and beyond the application of the rules...
"I'm very sorry for Maria, very sorry for her fans," added Giudicelli. "They might be disappointed, she might be very disappointed, but it's my responsibility, my mission, to protect the high standards of the game."
WTA chief executive Steve Simon later released a statement conceding that while wild cards were issued at the "sole discretion" of tournaments he disagreed with "the basis put forward by the FFT for their decision".
"She has complied with the sanction imposed by CAS," he said.
"The tennis anti-doping program (TADP) is a uniform effort supported by the Grand Slams, WTA, ITF and ATP.
"There are no grounds for any member of the TADP to penalize any player beyond the sanctions set forth in the final decisions resolving these matters."
Giudicelli dropped the bombshell shortly before Sharapova, who tested positive for heart disease drug meldonium at last year's Australian Open, was due to face Croatian veteran Mirjana Lucic-Baroni at the Italian Open in Rome.
WIMBLEDON DILEMMA
The bold decision of the French federation now throws the ball in the court of Wimbledon, who will face a similarly difficult decision when they announce their wild cards on June 20. Sharapova, who won Wimbledon in 2004, will need a wild card to get straight into the main draw at the All England Club.
She could have saved them that dilemma by reaching the semi-finals in Rome to boost her ranking but withdrew injured from her match with Lucic-Baroni to complete a bad night.
At least Sharapova is guaranteed a place in the Wimbledon qualifying event thanks to her first-round win on Monday.
Sharapova stunned the sporting world last year when she stood up in a Los Angeles hotel to say that she had failed a doping test for meldonium -- a drug that she said she had 'legally' taken throughout her career to treat medical conditions.
Her explanation was that she had not realised it had been added to WADA's banned list a few weeks earlier.
The five-times grand slam champion, one of the sport's biggest names and whose $36 million in prize money is dwarfed by her off-court earnings, was initially banned for two years.
However, after an appeal, the Court of Arbitration for Sport (CAS) found she was not an "intentional doper" and reduced the suspension to 15 months.
"While it's true that the CAS has reduced her sanction, it is still a violation of the tennis anti-doping program," Giudicelli said.
"It is not for me to question that (CAS) decision."
Sharapova's return has been rocky and several leading players have criticised tournament directors at WTA events in Stuttgart, Madrid and Rome for offering her a wild card, arguing that she should be awarded no special treatment.
AP
Most Popular
Highlights
What's Hot