These kids are always on the ball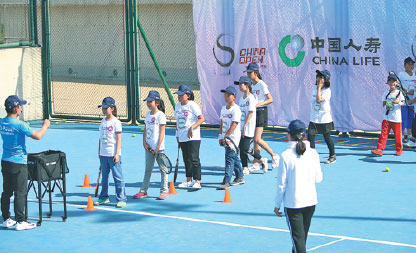 Youngsters line up for instruction during weekend's Beijing tryouts for ball kids for the China Open. Provided To China Daily
After chasing down dozens of loose balls and accurately rolling them between baselines in the sweltering Beijing heat, 10-year-old Wang Siyuan finished her 30-minute tryout session drenched, but delighted.
An avid tennis fan from the age of 7, Wang knows a thing or two about serving as a ball kid - one of the jobs most coveted by young aficionados of the sport.
"Physically, it's a hard job ... but mentally, it's rewarding and fulfilling," said Wang, who hails from Ergun, Inner Mongolia autonomous region.
She was one of about 200 children tested and interviewed at the National Tennis Center during a weekend tryout hosted by the China Open and the Soong Ching Ling Foundation to select ball kids for this fall's Open.
Funded by China Life Insurance, the Open is expanding this year's ball kid tryout program to seven cities including Guangzhou, Chongqing and Nanjing, aiming to involve an estimated 10,000 applicants.
Based on assessments of agility, sprinting, communication and ball throwing, 12 candidates will be selected at each of the eight tryout camps before being brought together for further training in six key components, including ball collecting and rolling, English and a practical test.
About 30 of the 96 young campers will be assigned to serve alongside 150 older ball persons at the China Open.
"It's literally selecting one among a thousand, so the benchmark is really high. But the demand is roaring as the number of applicants keeps increasing," said China Open vice-president Liu Mingqiu.
"We expect to continue to promote the tournament and awareness of the game by further expanding the ball kid selection program."
Parents are embracing the tryout process as a positive grind for their kids - even if most of them won't be selected.
"It helps toughen her mind and open her eyes no matter she is selected or not," said Wang Juhai, who traveled 2,000 kilometers from Inner Mongolia to Beijing with daughter Wang Siyuan.
After signing exchange agreements with the Australian Open in 2012 and the French Open in 2013, the China Open has been sending its own ball children - six to Melbourne and four to Roland Garros - to serve the biggest stars in the game. And the Grand Slam exposure has left indelible memories.
At the women's singles award ceremony of the 2013 Australian Open, runner-up Li Na wasn't the only Chinese who felt proud. Compatriot Wang Sining shared the spotlight as one of the best-performing ball kids and was officially thanked by tournament officials.
"It was the thrill of a lifetime and probably the best feeling I've ever had," said Wang, who worked both semifinals on the baseline.
Grand Slam events normally use only local recruits in deep rounds in the second week but the impressive work of Chinese kids in Melbourne earned them special accolades, said Yin Kai, director of the China Open's ball children program.
Still, working day and night, hot or cold, for at least one week takes a toll on the youngsters - not to mention occasionally bearing the brunt of a star's bad temper.
During a tight match against South African Kevin Anderson at Wimbledon in 2015, then world No 1 Novak Djokovic brought a ball girl to the verge of tears when he unleashed an emotional tirade.
"You have to stay alert, be smart and pay attention to details every second on court, otherwise you might cause troubles," said Liu Shu, one of the six Chinese ball kids at this year's Australian Open.
sunxiaochen@chinadaily.com.cn
Most Popular
Highlights
What's Hot