It's a hole different ball game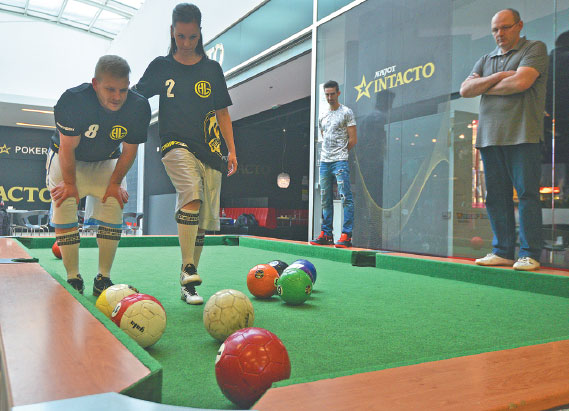 Footballpool-a combination of soccer and billiards-uses inflatable colored balls and a 'pitch' with six holes. The world's first footballpool league has just kicked off in Prague, following its inaugural world championships in the Czech capital in February. Michal Cizek / Afp
PRAGUE - A dark-haired girl kicks a white soccer ball gently towards a black eight ball, then wrings her hands in despair as she fails to sink it in the corner pocket to seal a victory.
Katerina Ziegelova, a 26-year-old clerk, is one of the pioneers of footballpool, the latest addition to the hybrid sports family.
The Czech footballpool league has just kicked off in Prague, after the sport was showcased in its inaugural world championships in the Czech capital in February.
A combination of soccer and billiards, the sport uses inflatable soccer balls - white, solids and stripes, like in billiards - and a playing 'pitch' with six corner and side pockets, proportionately larger than a regular pool table.
No cues are needed - the players kick the white ball while walking on the pitch.
"I'm not much of a football fan but I like pool, and this combination is very interesting," said Ziegelova, who teamed up with her boyfriend, Lukas.
Clad in black-and-yellow shirts complete with numbers and names, they lost their opening league tie against a team led by Jiri Novotny, who organized the competition along with a friend.
Novotny is no stranger to ball games, having scored 20 goals in 89 matches for the Czech Republic national futsal team, according to the Czech Football Association website.
"I saw a video on YouTube where two Americans played the game in a garden, drinking beer and doing a barbecue," said the wiry 28-year-old futsal defender.
"So we designed the table, set up a footballpool association and started calling it a sport," he said, adding this was the first such competition in the world.
Footballpool pits two teams with two players against each other, with each player taking on each opponent in two matches.
That was the formula used at the first world championships at a shopping mall in Prague.
"We had 70 teams from countries including Algeria, Kyrgyzstan, Brazil, Afghanistan, Germany and Slovakia," said Novotny, adding that a Czech-Slovak team won.
Prague is also scheduled to host the next worlds in February 2018.
Shopping malls are a typical venue for the sport as Novotny said he leased the legless footballpool "tables" to companies like bowling alleys, which then charge clients a fee to play.
"This is really a game for anyone - at the tournaments we have organized, we had children, pensioners, women, men," said Novotny.
The footballpool association currently has 15 playgrounds across the Czech Republic. It expects to install another 20 over the next two months.
Big names
Novotny has managed to lure some big soccer names to the sport, including former Hearts and West Brom striker Roman Bednar and ex-Dortmund and Liverpool midfielder Patrik Berger.
"It's not just kicking the ball; I like sports that require some thinking and precision, like this one," Bednar said.
"I must say I fell in love with it. It's not a bad sport at all, and it's for everyone who likes new things."
Among active players, Czech striker Jan Chramosta, a former under-21 international currently plying his trade with top-flight side Mlada Boleslav, is equally excited.
"It's fun. You can make various bets and spice up the experience a bit," he said, adding he had already taken on a few of his teammates.
"It's a lot about technique, about the way you kick the ball, about tricks and rotation. Not that I'm an expert there," he chuckled.
Living testimony for the benefits of footballpool, Novotny went on to play in the futsal league playoffs right after the tie, grabbing three assists as his Slavia Prague beat Pilsen 6-4 to advance to the top-flight semifinals.
Agence France - Presse
Most Popular
Highlights
What's Hot