Serving up a new way of learning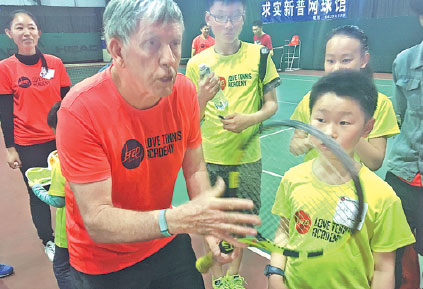 Doug MacCurdy, head coach of the Love Tennis Academy, instructs youngsters during an April clinic held at Beijing's National Tennis Center. Provided To China Daily
Academy helping Chinese athletes earn a shot at US college ranks
Chinese youngsters hoping to compete in US college tennis are getting a head start, thanks to a unique program supervised by American experts.
The Beijing-based Love Tennis Academy is running clinics of its Tennis Education Nexus (TEN) program at the National Tennis Center - home of the China Open - in the north of the capital, aimed at preparing kids for admission to US universities by virtue of their command of the sport.
The academy's head coach, Doug MacCurdy, knows a thing or two about what American universities are looking for, having helmed the men's tennis program at Princeton from 1974 to 2000.
"If you want to go to a prestigious college outside of China, being a tennis player will help you immensely," said MacCurdy, a former general manager of the International Tennis Federation.
"Everybody has good test scores if you apply for universities like Princeton. Tennis will help you stand out among all the good students. They are looking for well-rounded people."
Differing from other programs across the country, TEN boasts a mix of academic study and tennis training - 10 hours on court a week, plus math, science, English and art lessons taught by teachers from the Beijing Haidian Foreign Language Shi Yan School and Beijing New Talent Academy on their campuses.
"It's important to instill the idea (in China) that tennis and education are a pretty good mix," said MacCurdy, who along with David A Benjamin, the former executive director of Intercollegiate Tennis Association, was asked to develop TEN's training curriculum while also instructing local teachers on the US collegiate athletic system.
"We are putting together an instructional system (of youth tennis training) which is logical and easy to follow," said MacCurdy.
Since his first visit to China in 1986, MacCurdy has witnessed the game's rapid growth professionally, but he is convinced the next great leap could be at the collegiate level.
"In my experience working with the Chinese Tennis Association and the provincial teams, one thing I thought could have been improved is that when players are very young they shouldn't have to give up studying," he said.
"That maybe changed a little bit. There are more people interested in tennis and there is probably a room for growth in college tennis, in addition to the traditional system."
Unlike in the US, where athletic talent is nurtured in collegiate systems like the NCAA, Chinese athletes have usually had to give up academic education early on after being drafted into China's State-run sports system.
For modern, education-focused Chinese parents, that's a major negative.
"I don't expect him to be a professional player in the future, even if he has started training at a young age," said Zhu Dan, mother of an 11-year-old who has been practicing tennis after school for the past four years.
"I'd like him to embrace tennis as a speciality while maintaining focus on study as an ordinary student," said Zhu.
"Hopefully, tennis could be a stepping stone for him to earn admission to an elite university in the US."
sunxiaochen@chinadaily.com.cn
Most Popular
Highlights
What's Hot