Joshua digs deep to vanquish Wlad
Champ survives brutal knockdown to finally finish off Klitschko in 11th
LONDON - Anthony Joshua wasn't wrong when he raised his hands in victory after decking Wladimir Klitschko in the fifth round of their heavyweight title fight in front of 90,000 fans at Wembley Stadium on Saturday.
He was just celebrating a little too early.
The rookie mistake allowed Klitschko to rally, as the two 6-foot-6 sluggers took a classic battle to the 11th round - four more than any Joshua fight had ever gone.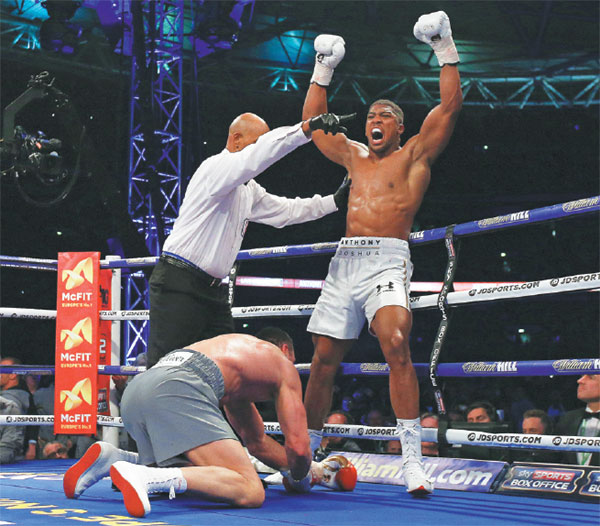 Anthony Joshua celebrates the first of his three knockdowns against Wladimir Klitschko during their heavyweight title bout at London's Wembley Stadium on Saturday. Joshua defended his IBF crown and added the WBA and IBO titles to his collection with an 11th-round TKO. Andrew Couldridge / Reuters
That's when Joshua unleashed a vicious uppercut that spun Klitschko around, leading to a TKO triumph that set off nationwide celebrations in Britain and cemented the 27-year-old's status as boxing's new superstar.
Klitschko, who had barely thrown any power punches over the first five rounds, decked Joshua in the sixth with a brutal textbook straight right.
With an entire country screaming for him to get up, Joshua - who had KO'd all his previous 18 opponents by the seventh round - rose at the count of three and weathered the storm until the bell.
Klitschko didn't go down after the big uppercut in the 11th, but Joshua was all over the stunned former champ and finally dropped him with a left hook.
Klitschko got up, only to be sent crashing to the canvas again after absorbing a six-punch flurry.
Klitschko had his hands down and was taking unanswered punches to the head when referee David Fields moved in to stop the fight with 35 seconds left in the 11th.
At the time of the stoppage, Joshua was ahead 96-93 and 95-93 on two scorecards, while Klitschko led 95-93 on the third.
"When you go to the trenches, that's when you find out who you really are," Joshua said.
"In this small little ring here, there's nowhere to hide."
Klitschko's effort was inspiring. After dropping Joshua in the sixth, he gave no quarter until the stoppage, repeatedly scoring with counter rights while coping with a nasty cut above his right eye.
The Ukrainian, who reigned over the heavyweight division for a decade, was fighting both Joshua and Father Time at the age of 41. He looked to be over-matched in the early rounds, but fought his best after he kissed the canvas in the fifth.
"As I said, I'm not perfect but I'm trying," said Joshua, the 2012 Olympic gold medalist who was fighting for only the 19th time as a pro.
Klitschko, in his 29th world-title fight, seemed to be gaining the upper hand in the later rounds, until the uppercut sent him spinning across the ring.
"It was really sad I didn't make it tonight," Klitschko said. "I was planning to do it. It didn't work. But all respect to Anthony."
Joshua rose to the occasion in a bout that more than lived up to its billing as the best heavyweight matchup in more than a decade.
Klitschko fell to 64-5 in a long career that began in 1996 after he won Olympic gold in Atlanta.
Joshua's promoter, Eddie Hearn, said he now envisages the charismatic champion, who owns the IBF, WBA and IBO titles, emulating his idol, Muhammad Ali, by showcasing his talent around the globe.
Unbeaten Deontay Wilder (38-0, 37 KO) of the US owns the WBC title while New Zealand's Joseph Parker (22-0, 18 KO) is the WBO champion.
Hearn has plans for Joshua to light up new venues in China, the Middle East and possibly Africa.
"In terms of worldwide stardom, I told him, 'You win this fight and you become the biggest star in British sport and the biggest star in world boxing'," Hearn said.
"Yet there's so much more improvement to come. By consolidating the championship, I think we have completed phase two of the four phases in AJ's career."
Next, he said, would be big-money defenses around the globe.
"The plan, rather than just keep going in the UK, is to explore and break new markets and boundaries - like the Middle East and China," Hearn said.
"I could see AJ fighting in the Bird's Nest in Beijing and maybe in Africa. I want to go worldwide with him.
"He wants to do what Ali did. That's his inspiration."
Associated Press
Twitter reaction
How Twitter reacted to Anthony Joshua's dramatic heavyweight title victory:
"One of the most exciting fights I've ever seen. Congrats @anthonyfjoshua on the win & @Klitschko on amazing battle. Hope there's a rematch."
Hollywood star Arnold Schwarzenegger who was ringside at Wembley
"Well done @anthonyfjoshua good fight, you had life & death with @klitschko & I played with the guy, let's dance."
British heavyweight rival Tyson Fury, who defeated Klitschko in 2015
"The only sport that truly deserve the big bucks."
Oasis rocker Liam Gallagher
"How much heart did @Klitschko show in this fight? Gotta respect it. Hold ur head high brother! #joshuaklitschko."
Former heavyweight champion Lennox Lewis
"Such an amazing fight. Lot of heart by both fighters. A lot of questions answered by @anthonyfjoshua #JoshuaKlitchsko."
US boxing legend Sugar Ray Leonard
"What a fight!! Didn't expect that! Great fight! #joshuaklitschko."
Former two-weight world champion Joe Calzaghe
"Great Britain aged 5 years during that fifth round. Thank God Joshua found a second wind."
Former England soccer star Michael Owen
"What a fight @anthonyfjoshua you Sir are different class. That was incredible...wow... what a way to get back up and knock him out..."
British golfer Ian Poulter
(China Daily 05/01/2017 page11)