Wilder not pulling punches in picking Klitschko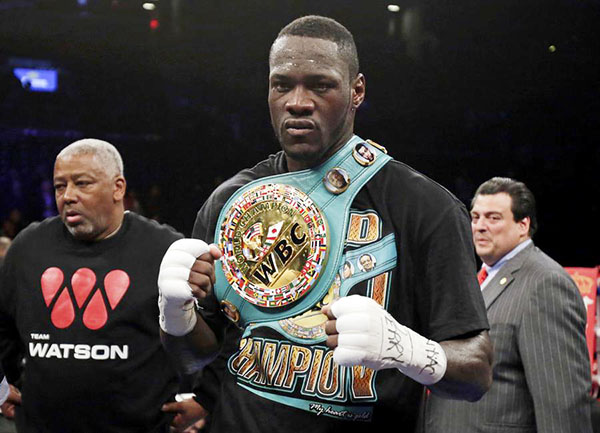 Deontay Wilder celebrates after knocking out Artur Szpilka in the ninth round of their heavyweight title boxing fight at Barclays Center, in Brooklyn, New York, U.S., January 16, 2017. [Photo by Adam Hunger-USA TODAY Sports]
LONDON-Unbeaten Deontay Wilder will have a ringside view of rival heavyweight champions Anthony Joshua and Wladimir Klitschko in their unification showdown at Wembley Stadium on Saturday, with hopes to fight the winner by December.
The 31-year-old American, who owns the World Boxing Council crown, will serve as a television analyst when Britain's unbeaten Joshua (18-0, 18 KO) defends his International Boxing Federation crown and vies for the vacant World Boxing Association title against Ukraine's Klitschko (64-4, 53 KO), before a sellout crowd of more than 90,000.
"I'm excited to see it," said Wilder, who owns a record of 38-0, with 37 knockouts.
"I'm looking forward to getting my own bird's-eye view of both fighters for a future fight. I'm definitely going there to scout. I'm looking for a fighting partner."
When it comes to picking a winner, Wilder is torn, saying, "My heart goes to Joshua but my mind says Klitschko will win."
Wilder has owned the WBC crown for two years and wants a July fight with New Zealand's unbeaten Joseph Parker, the World Boxing Organization champion, with the winner to meet the Joshua-Klitschko victor.
"Whoever unifies is going to bring another era to the heavyweight division-one name, one champion, once and for all. Undisputed. It's going to be better for boxing. You'll see a different atmosphere," Wilder said.
"I'm confident I'm the best in the division. I will unify the division. I'm just being patient and waiting for my time to come."
Parker, 22-0 with 18 knockouts, had a May fight against Britain's Hughie Fury called off on Saturday.
"I want Parker in July," Wilder said. "Why not? He don't have any opponent now. Let's unify. Let's make it happen. It makes so much sense.
"What would be better than me fighting Parker and then at the end of the year fighting for one undisputed title? I'm looking forward to unifying this division and bringing it back to America."
Wilder took some verbal swipes at Joshua and Klitschko, citing the Englishman's past foes as lackluster and the ex-champion as possibly too far past his prime.
"There's a lot of flaws in Joshua," Wilder said. "He's still young in the game. He's going off the physique and the height. But if you soul-search deep down and look at his resume, you'll get your answer.
"He has the power. At any given time he can get you out of there. He's definitely going to have to move and take angles with Klitschko, but I think he has a chance."
Klitschko, who has sparred more than 50 rounds with Wilder over the years, is 41 and lost his title to Tyson Fury in his most recent fight 17 months ago.
"I hope Klitschko brings Klitschko. I think he's ready. He's going to show a lot of things," said Wilder.
"He's going to teach Joshua a lot of things during this fight. Sometimes you have to let them know 'I'm still a monster'."
Wilder said he plans to visit Kenya next month and Jordan next year to investigate possible fights in those countries and vowed: "If it's safe, I'll go anywhere in the world."
After failed doping tests scuttled two prior title fights, Wilder insists on Nevada-style drug tests for any foe.
"You better be clean by the time you fight me 'cause we're going to find out about it real quick," he said.
"And even if you're doped, I'll still whoop you."
AFP