Rivals' wrath overshadowing Sharapova's Stuttgart return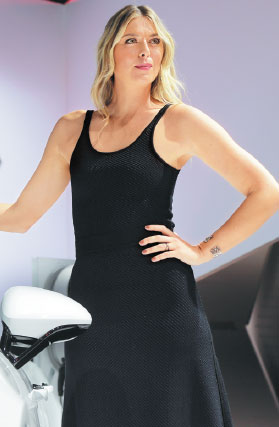 Maria Sharapova poses at the Los Angeles Auto Show in Hollywood last November. AP
STUTTGART, Germany - Maria Sharapova returns after a 15-month doping ban on Wednesday, desperate to rediscover the glory which brought her five Grand Slams, the world's No 1 ranking and a spectacular multi-million dollar lifestyle.
But the poster girl of women's tennis isn't being welcomed back with open arms by rivals who were already suspicious of the towering Russian's ice-cold detachment even before her fall from grace.
Sharapova isn't losing any sleep over that, as the 30-year-old prepares for her first match since losing to Serena Williams in the quarterfinals of the 2016 Australian Open.
"That is the least of my concerns. I know that I am respected in my field," said Sharapova who was controversially handed a wild card into this week's Stuttgart event, a clay-court tournament sponsored by Porsche, one of her headline backers.
"I see the respect in how my opponents play against me."
She has been given a Wednesday start - the day her ban, imposed for testing positive for meldonium at last year's Australian Open - comes to an end.
Sharapova, who opens against Italian veteran Roberta Vinci, had been taking the over-the-counter cardiac supplement when it was within the rules, but was later reclassified as a prohibited drug.
Far from being remorseful, Sharapova recently challenged tennis authorities for failing to give her sufficient warning that meldonium had become a banned substance.
The Russian could not have picked a better tournament for her return, having won the Stuttgart title three times, against just one defeat.
If she gets through her opener, she could face Poland's Agnieszka Radwanska, one of her fiercest critics, in the second round.
Radwanska, the sixth-seed in Stuttgart, expects an intense return from the Russian, but said Sharapova should have had to qualify on merit rather than being given a free pass on a wild card.
'Journeymen' rivals
"This kind of entry into the tournament should apply to players who dropped in the ranking because of injury, illness or some other random event. Not for those suspended for doping," said Radwanska.
Sharapova's agent, Max Eisenbud, said his client's rivals are motivated solely by jealousy - especially with Sharapova also battling for a French Open wild card.
"All those journeymen players like Radwanska and Caroline Wozniacki who have never won a Grand Slam, and the next generation passing them ... they are smart to try to keep Maria out of Paris," Eisenbud said.
"No Serena, no Maria, no Vika, no Petra; it's their last chance to win a slam," he added, a nod to the absence of pregnant Serena Williams, Petra Kvitova and Victoria Azarenka - the latter two expected to return in July.
Sharapova can expect plenty of support from the Stuttgart organizers as her return is the highlight in the tournament's 40th anniversary celebrations.
As an ambassador for Porsche, she is sure of a warm welcome. Her confectionary brand - Sugarpova - will have a stand in the tournament's retail village, and tournament director Markus Guenthardt knows her presence will boost ticket sales.
"Her return in the Porsche Arena is a fabulous present for our fantastic spectators and is certain to be one of the sporting and emotional highlights of our anniversary tournament," he said.
As well as Radwanska, many of Sharapova's other potential Stuttgart rivals have made it clear they disapprove of her getting a helping hand into the main draw.
Germany's Angelique Kerber, this year's top seed and the only player to have beaten Sharapova in Stuttgart, said her place should have gone to local talent.
"It's a German tournament, and we have so many good German players, so this is also a little bit strange," said Kerber.
"It's also strange for the players that she will walk on site on Wednesday and play on the same day."
Dominika Cibulkova, the third seed, claims Sharapova is benefiting from unfair treatment.
"It's not about her, but everyone who was doping should start from zero," said the Slovakian.
Agence France-Presse