Hawks take off as insults fly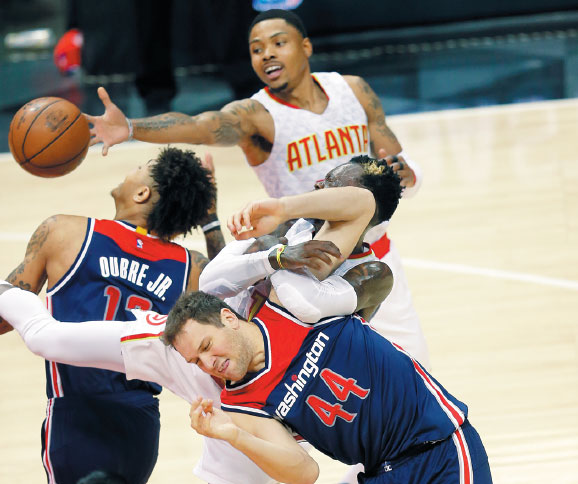 Washington Wizards guard Bojan Bogdanovic (44) and Atlanta Hawks guard Dennis Schroder collide as Kent Bazemore and Kelly Oubre Jr. vie for the ball during Game 3 of their NBA first-round playoff series in Atlanta on Saturday. The Hawks cruised to a 116-98 victory that cut the Wizards' lead to 2-1. John Bazemore / Ap
ATLANTA, Georgia - The Hawks are back in the series, and the bad blood with the Washington Wizards shows no signs of letting up.
Paul Millsap scored 29 points, Dennis Schroder had 27 and Atlanta delivered an early knockout blow in a 116-98 win on Saturday, slicing the Wizards' lead to 2-1 in the opening-round playoff matchup.
After two tight losses in Washington exposed plenty of ill feelings between the teams, Millsap and Washington's Markieff Morris continued to go at it in Game 3.
"He's a crybaby," Morris said afterward. "You get all the calls when you're a crybaby. That's how it went tonight."
Those comments were quickly relayed to Millsap at the postgame news conference.
"It definitely got personal now," he replied, before offering some unsolicited advice to Morris: "Take his loss and go back to the hotel, be ready for the next game."
Cheered on by a raucous home crowd, the Hawks built a 25-point lead by late in the first quarter and were never seriously challenged by the Wizards.
John Wall continued his dazzling play in the series, scoring 29 points, but he was essentially a one-man team. The other Washington starters combined to score 30 points on 14-of-45 shooting.
Beal, in particular, had a miserable night after averaging 26.5 points in the first two games. He was held to 12 points on 6-of-20 shooting, missing all six of his attempts beyond the arc.
"That's probably the most I've ever seen him air-ball in one game," Wall said. "He'll figure it out."
The Hawks came out intent on moving the ball, getting open looks and cutting down on the turnovers that plagued them in the first two contests.
And they followed that game plan to perfection.
Atlanta pushed out to a double-digit lead before the game was three minutes old and stretched the margin to 38-13 with just under a minute to go in the opening quarter on Schroder's 3-pointer.
Wall did everything he could to spark the Wizards. He posed along the baseline after a thunderous dunk, which might have had more effect if the Wizards weren't losing by 23 at the time.
He somehow made a 3-pointer while falling out of bounds in the corner. And he darted through a collapsing defense to bank an improbable shot which drew gasps from the crowd.
Wall made all but one shot and scored 21 points in the first half, but the Wizards trailed 64-46 at halftime. The other four Washington starters had just 18 points.
The Hawks took advantage at the other end.
"They jumped on us in that first period," Wizards coach Scott Brooks said. "Their sense of urgency was very high. I wouldn't say we were too relaxed, but we came out missing shots, and we let that affect our defense."
Associated Press