Secure stadiums the Trump card in joint World Cup 2026 bid
US president backs plan with Canada, Mexico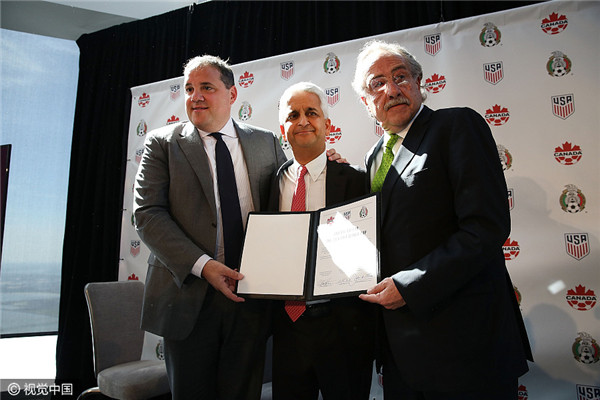 Sunil Gulati, (center) president of the United States Soccer Federation (USSF), Canadian CONCACAF President Victor Montagliani (left) and Mexican Football Federation President Decio De Maria hold up a signed unified bid for the 2026 soccer world cup on April 10, 2017 in New York City. [Photo/VCG]
NEW YORK - With dozens of secure, tournament-ready venues to choose from, the United States, Canada and Mexico on Monday announced a joint bid to stage the 2026 World Cup, aiming to become the first three-way co-hosts of FIFA's showpiece tournament.
US Soccer Federation chief Sunil Gulati, who announced the bid in New York with his Canadian and Mexican counterparts, said they had the backing of President Donald Trump, despite the American leader's rocky relations with Mexico.
Gulati said 60 matches would be staged in the United States, with Canada and Mexico hosting 10 games each. The US would host all knockout games from the quarterfinals onwards, he added.
He played down suggestions that politics could hamper the bid, claiming Trump was "especially pleased" with Mexico's involvement.
"The president of the US is fully supportive ... we are not at all concerned at some of the concerns that some people may raise," Gulati said.
Trump was elected last year after a campaign marked by rhetoric against Mexico, vowing to build a wall to keep out illegal immigrants he branded "criminals" and "rapists".
The joint bid will start as the heavy early favorite in the race, despite US prosecutors leading the probe into soccer corruption that rocked the sport in 2015 and led to the downfall of former FIFA supremo Sepp Blatter.
Open secret
A North American bid for 2026 had long been regarded as inevitable.
That sense of certainty hardened last year, when FIFA's council ruled that neither Europe nor Asia would be eligible to run for the 2026 tournament because the regions are hosting the next two World Cups: Russia in 2018, followed by Qatar in 2022.
With Europe and Asia ineligible, CONCACAF - the body which represents North, Central American and Caribbean soccer - could face competition from the Africa, South America and the Oceania confederations.
US soccer officials were coy about the possibility of a future World Cup bid since the country lost out to Qatar for 2022 at a corruption-tarnished vote in Zurich in 2010.
However, the prospect of a fresh North American bid gathered momentum in 2014 after the World Cup in Brazil.
That campaign captured the imagination of enough US sports fans to result in huge crowds attending public screenings of games at cities across the country.
The club game is also booming in the US, with record numbers attending Major League Soccer in 2016.
The US also burnished its credentials as a major-tournament host with last year's 16-team Copa America Centenario.
The US first hosted the World Cup in 1994, staging a commercially successful 24-team tournament that played out to packed stadia.
That tournament remains the most attended World Cup in history, with just over 3.5 million fans flocking to its 52 games, an average of 68,991 per match.
Mexico has hosted the World Cup twice before - 1970 and 1986.
Canada, which has only one World Cup finals appearance, in 1986, has never hosted the tournament. But the hockey-mad country earned plaudits for its staging of the Women's World Cup in 2015.
Under FIFA plans for its expanded 48-team World Cup, CONCACAF will be awarded six berths.
Gulati indicated that officials expected all three host nations to be granted places.
"There has never been a World Cup where the host countries have not been qualified," Gulati said.
A North American tournament is also likely to be attractive to FIFA for public-relations reasons.
With state-of-the-art venues in every US state and Canadian province and dozens more in Mexico to choose from, there is little risk of stadiums being left to rot as white elephants when the event ends - a problem that affected the 2010 World Cup in South Africa and 2014 edition in Brazil.
"We have the luxury of having stadiums that already exist in all three nations," Gulati said.
Agence France-Presse
Most Popular
Highlights
What's Hot