(Less) quiet, please? Federer doesn't mind some crowd noise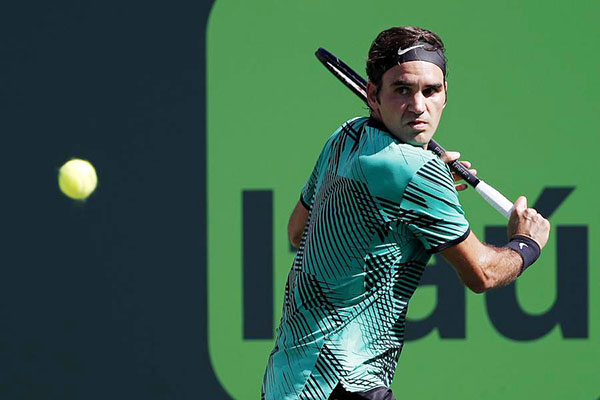 Roger Federer of Switzerland hits a backhand against Juan Martin del Potro of Argentina (not pictured) on day seven of the 2017 Miami Open at Crandon Park Tennis Center. Federer won 6-3, 6-4 in Miami on March 27, 2017. [Photo by Geoff Burke-USA TODAY Sports via Reuters]
KEY BISCAYNE, Fla. — Roger Federer is not bothered by a little noise when he plays.
And it seems like he would welcome more.
After the No. 4 seed rallied to beat No. 10 Tomas Berdych in the quarterfinals of the Miami Open on Thursday — a down-to-the-wire three-setter where the crowd was clearly pulling for Federer — tennis' all-time Grand Slam king was asked about the longstanding tradition calling for fans to be as quiet as possible during points.
"The occasional baby screams, that doesn't bother me, obviously. I'm used to that in a big way," said Federer, a father to two sets of twins. "But no, it's part of the game.
Honestly, I think it's nice that in tennis we have it super loud, super quiet, super loud. I think it makes tennis very special."Berdych's best shots seemed to be getting, at best, polite applause. Winners from Federer, and even errors from Berdych, drew loud roars. And Berdych has said in the past that he prefers a quiet atmosphere, like what's typical at Wimbledon as opposed to the electricity coming from the stands at a US Open.
The stance offered by Federer on Thursday is similar to ones offered by other tennis pros like Novak Djokovic and Maria Sharapova in the past.
And the debate has raged for decades.
"It is not nice," former French star Cedric Pioline said when asked about the US Open crowd — that comment coming in 1993.
There was a very brief chiding from a chair umpire to some loud fans during a women's match between Kirsten Flipkens and Dominika Cibulkova last weekend, but there's been few complaints from players about the crowds at Key Biscayne during this tournament.
"If there was more screaming and more shouting and more movement, actually, that would be OK, too," Federer said. "I think it's gotten to a point where everybody wants to be super silent. I don't disagree with that. I mean, it makes for better atmosphere, but we play through so many other conditions in practice that we should be able to handle it."
Most Popular
Highlights
What's Hot