Beijing passes world-class test
Valuable lessons learned ahead of 2022 Games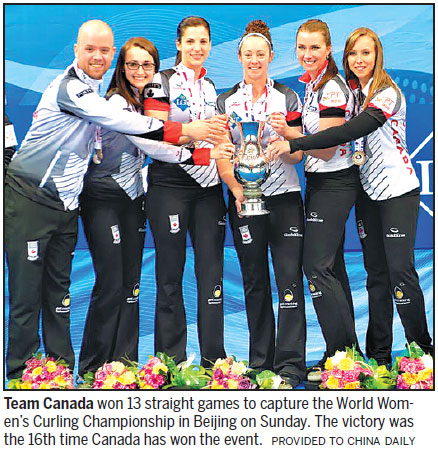 The ice could have been better and the lighting should have been brighter. But overall, the first global championship of any winter sport to be held in Beijing since the city won its bid to host the 2022 Winter Olympics was a resounding success.
The two-week World Women's Curling Championships, which wrapped up at Capital Gymnasium on the weekend, was a valuable learning experience that went a long way toward popularizing the sport in China.
"When we won the bid to host the championships in October 2015, we realized it was a chance to learn how to organize a top winter sports event and to help us prepare for the 2022 Olympics," said Shao Xiaojun, secretary-general of the world championships' organizing committee.
Beijing hosted the men's world championships at the same venue in 2014, but the preparatory work this year was much better.
"Preparations started at the end of 2015; we set up a team of 120 organizers and recruited more than 200 volunteers for the tournament. That was a big improvement over 2014," Shao said, adding that organizers worked closely with the World Curling Federation (WCF), which provided valuable advice.
"They have very strict standards and plans for every aspect of the event. We learned from them and tried to follow their guidelines," he said.
The hard work paid off, drawing praise from the WCF, foreign participants and spectators.
WCF president Kate Caithness said Beijing did a "first class" job in organizing an event that helped more people in China understand curling.
"I'm so happy that so many young people attended the event; they are curling's future," she said.
Adam Kingsbury, coach of world champion Team Canada, said it was a "totally new and wonderful experience" for his squad to compete in Beijing, and he was satisfied with every aspect of the event.
The organizers also took the opportunity to encourage more Chinese to try curling, especially youngsters. According to Shao, the capital will host an event for juniors in the very near future.
The lack of dedicated curling facilities is one of the major challenges the sport faces in China, but a training base is planned for Beijing's Yanqing district and private capital might help fund further development of the sport.
"The cost of curling ice is still a problem. We should assess our current situation and then try to attract more people to the game," said Shao.
Most Popular
Highlights
What's Hot