Rafa rallies for memorable mark
Spaniard overcomes shocking start to win 1,000th tour match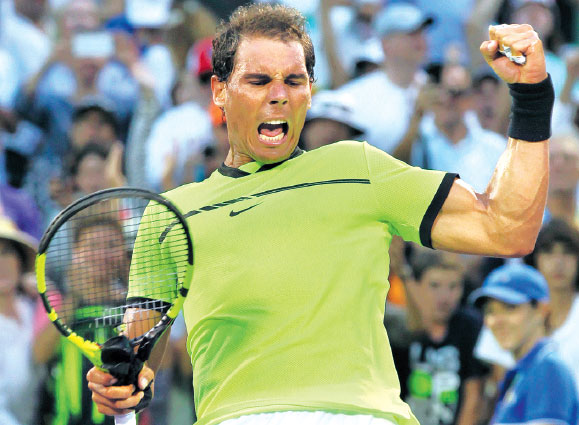 Rafa Nadal of Spain is pumped after beating Philipp Kohlschreiber of Germany 0-6, 6-2, 6-3 in the third round of the Miami Open in Key Biscayne, Florida, on Sunday. [Photo/Agencies]
MIAMI - Rafa Nadal celebrated his 1,000th tour-level match on Sunday with a hard-fought victory over Philipp Kohlschreiber to reach the fourth round of the Miami Open.
Kohlschreiber, 33, stormed through the first set in 21 minutes, but fifth seed Nadal turned the match on its head to prevail 0-6, 6-2, 6-3 at the hardcourt tournament.
It was the first time Nadal failed to win a game in the first set of an ATP tour match since 2008.
The 30-year-old Spaniard ignited the near-capacity Crandon Park crowd with a typically determined comeback to clinch his 822nd career victory.
He joins a group of 11 players, headed by Jimmy Connors (1,535), to have played at least 1,000 matches.
"One thousand matches is a lot. Obviously, it's good news because that says I am having a long career," said Nadal.
"Over the years, I heard a lot of people say I was going to have a short career, so it's something important for me. I remember the first match very well because it was at home in Mallorca. It was my first victory on the ATP and was a great feeling."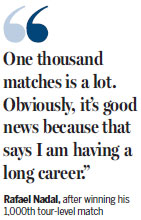 Nadal said he had not done much wrong in the first set against an opponent who was very focused.
"He was doing everything good, so that's sport. I lost the set because he was playing too well. That's it.
"But a match is long and the positive thing is I was able to put on some pressure after a very tough first set. I resisted well in the first few games of the second set and then I think I played a great third set."
Nadal said the key to his comeback had been his ability to change the tempo of the match.
"It was obvious that the points had been too quick. He was able to return so quick and to hit every ball as hard as he could. So I needed to play the points a little bit longer.
"It's not about being more or less aggressive, it's about changing a little bit the position on the court. I went back on the return.
"I tried to play my shots a little bit higher against his backhand.
"After that, I think my serve worked very well in the second and third sets," added Nadal, who next faces France's Nicolas Mahut. Mahut beat Argentine Guido Pella 6-4, 6-3.
Kei Nishikori also took three sets and nearly three hours to advance under a high noon sun, outlasting Spain's Fernando Verdasco 7-6 (2), 6-7 (5), 6-1.
Nishikori, runner-up to Novak Djokovic last year, fired 37 winners but Verdasco, aided by persistent swirling winds, used his varying pace and depth to rattle the Japanese star, inducing 48 unforced errors.
"I knew it was going to be a tough one," Nishikori said. "Fernando is a very solid player. He has a great serve and great groundstrokes. I knew it was going to be long rallies.
"But it was a shame when I was up a break in both first and second sets and both went to 7-6. I made some mistakes when I was up a break, but in the third I was very focused," he added.
Canada's Milos Raonic withdrew before his match against American qualifier Jared Donaldson, blaming a persistent hamstring injury.
"It's related to the previous injury I sustained almost four weeks ago in Delray Beach," said Raonic, adding he would not return to the tour until he felt 100 percent fit.
"That could be in two weeks, or it could be a little bit longer."
Reuters-AFP
Most Popular
Highlights
What's Hot