Growing homegrown stars
Song and Ying encourage kids to pick up sticks
With hockey gaining a higher profile in China ahead of the 2022 Winter Olympics, two of the nation's brightest homegrown stars are encouraging youngsters to take up the world's toughest team sport.
In 2015, Beijing-born defenseman Song Andong became the first Chinese player drafted into the National Hockey League when he was selected 172nd overall by the New York Islanders.
Another Beijinger, forward Ying Rudi, became the first Chinese to sign a contract with the Russia-based Kontinental Hockey League when he joined Beijing-based Kunlun Red Star last fall.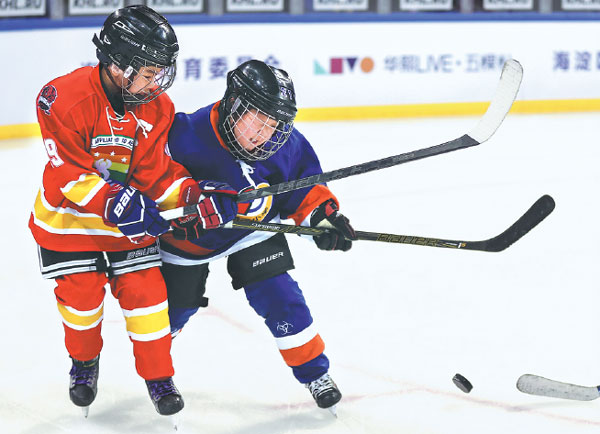 Payers from the Elementary School Affiliated to Renmin University (red) and Zhongguancun No 1 Primary School compete in an exhibition game at Wukesong Arena following the March 19 opening ceremony for the 2017 Haidian District School Hockey League season. Provided to China Daily
At last weekend's opening ceremony for the Haidian District School Hockey League's season, Song and Ying encouraged youngsters to take up the sport.
"I can imagine that more and more students have picked up hockey in Beijing. Let's enjoy the passion and joy of the sport altogether ... and I expect to see some of you on the ice at the 2022 Winter Olympics," said Song, who is playing college hockey at Cornell University in Ithaca, New York, in anticipation of challenging for a spot in the NHL.
Ying, whose season wrapped up when Red Star was knocked out of the KHL playoffs three weeks ago, said the key to graduating from junior hockey to the pro ranks is perseverance.
"There will be a lot of challenges and distractions, such as a heavy study load, the emphasis on academic excellence in China and maybe other hobbies," said the 18-year-old Ying. "But once you get into the sport you will be addicted to it. My advice is to keep working at it whenever you can and to stick with it no matter what happens."
The school league's new season, which runs through April, involves 40 teams and more than 520 primary and secondary players competing in three age groups.
Although still on the periphery of national popularity, hockey is growing by leaps and bounds in Beijing, as evidenced by the number of amateur clubs in the capital.
According to the Beijing Hockey Association, 130 teams encompassing five different age groups took to the ice during the Beijing Minor Hockey League's 2016-17 season, which wrapped up last week. That's a huge increase from the BMHL's debut season in 2008, when only four teams competed.
More than 3,000 junior players have registered with the association to take part in weekly after-school practice sessions and league competitions, said Su Jun, deputy director of the youth department of Beijing Sports Bureau.
To provide more advanced training and accessible facilities for young players, Wukesong Arena, a Beijing 2022 venue, has signed a partnership with the Haidian district education commission to become an extracurricular physical education base.
The arena, which hosts Red Star home games, will open its rink for student training sessions, offer free tickets for students to attend games and will organize programs to help train PE teachers.
sunxiaochen@chinadaily.com.cn
Most Popular
Highlights
What's Hot