Warming up to Olympic challenge
From kids to pensioners, China is embracing the lure of the snow
At 76, Zhang Baohua is a shining example of China's growing enthusiasm for cold-weather sports.
Every day during the past six winters, Zhang has made the 90-minute commute from his home in Changji to Xinjiang Silk Road ski resort in the Xinjiang Uygur autonomous region, to hit the slopes. His family joins him on weekends.
Not surprisingly, Zhang has become something of an icon to staff and fellow skiers. He took up the sport after his son bought him the equipment, and his family is one of many spending more and more time enjoying winter sports in the northwestern region.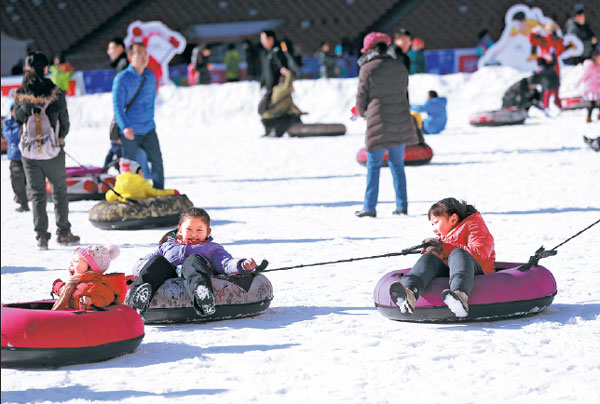 Getting kids accustomed to having fun on the ice and snow is one of the goals of China's nationwide drive to popularize winter sports. [Photo by Zou Hong/China Daily]
With Beijing and Zhangjiakou hosting the 2022 Winter Olympics, China is aiming to get 300 million citizens involved in winter sports. And the Xinjiang Sports Administration is playing a major role in that initiative.
During this year's Spring Festival, the Silk Road Resort welcomed 42,000 tourists, a 30 percent increase over last year.
New jumping, cross-country and freestyle ski venues are popping up as part of an infrastructure upgrade, while Xinjiang is also hosting an introductory program for teenagers called 'Stars of the Future'.
A total of 37 delegations from around the country took part in the inaugural edition of the event in the northeast province of Heilongjiang.
"I have never seen such heavy snow before. It is freezing here, but it is so much fun," said one of the potential 'future stars', Zhang Yang, from Wenzhou in eastern Zhejiang province.
"Stars of the Future is a great platform to encourage children to take up winter sports," said Liu Fumin, director for youth sports at China's State General Administration of Sports.
Kids are also being targeted in the classroom, with more winter sports curricula being introduced into schools.
"Winter sports in schools had their day years ago in Beijing, but by 2022 we will bring it back," said Wang Jun, an official with the Beijing Municipal Education Commission.
China plans to have more than 2,000 schools that feature winter sports by 2020, and over 5,000 by 2025.
The blueprint isn't confined to developed areas.
In Kangle, a little-known village in western China's Qinghai province, a group of cousins were among many locals enjoying the slopes on the fifth day of the Chinese Lunar New Year holiday.
"There are more winter-sports places popping up in recent years, which gives us new places to go for our family gatherings," said one of the cousins, 19-year-old Guo Nina, who has skied for three years.
Skiers also flock to Kangle from Gansu, Sichuan, Ningxia and other nearby provinces and autonomous regions.
"When I was a child, we had nothing to do during winter, the only thing that we could do for fun was to ski on a shovel," said 45-year-old Gansu native Li Ruyong, who was on vacation in Kangle with his family.
"Now that I am skiing again, this deja vu makes me feel much younger."
Like Silk Road Resort, Kangle reported a spike in its Spring Festival numbers.
"We had about 2,600 visitors every day, 1,000 more than last year," said Liu Pingli, assistant general manager of the Kangle resort.
China's warmer regions are also getting on board with winter sports.
Guizhou, in the nation's southwestern region, is planning to build indoor skating rinks and outdoor ski resorts, according to Song Guoqiang, deputy director of the Guizhou Sports Bureau.
Ultimately, it's hoped the push for more participants and better facilities will produce professional-level athletes.
China's first Winter Olympics champion, speed skater Yang Yang, is optimistic that will happen, but is urging everyone to get with the program.
"We made a commitment to bring 300 million people into the fold of winter sports in our bid for the 2022 Winter Olympics," said Yang, now a member of the International Olympic Committee.
"We are now on the right path, but the task will take patience, hard work and require the whole society to collaborate."
The author is a sports reporter at Xinhua News Agency
Most Popular
Highlights
What's Hot