Pospisil masters Murray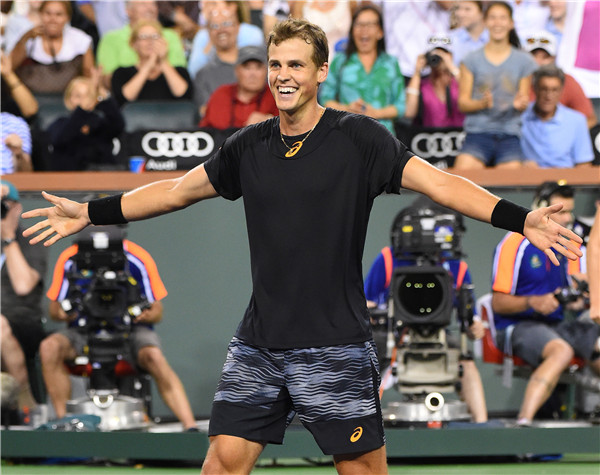 Vasek Pospisil (CAN) celebrates as he defeated Andy Murray in his 2nd round match in BNP Paribas Open at the Indian Wells Tennis Garden. [Photo/Agencies]
World No 1 Andy Murray was sent packing from the second round of the BNP Paribas Open on Saturday after losing 6-4, 7-6 (5) to Canadian qualifier Vasek Pospisil.
Pospisil delivered the knockout punch in style, whipping a crosscourt winner on his fourth match point in front of a huge crowd at Indian Wells, California, that included former boxing champion Mike Tyson.
Pospisil, ranked No 129 in the world, was rewarded for his aggressiveness, rushing the net whenever the opportunity arose and pouncing on Murray's second serve.
"I knew I was a long shot. I've played Andy four times and didn't win a set," the 26-year-old said in a TV interview.
"I felt like I had the ability to (win) but to actually go through is a whole new thing. I tried to bring different tactics from the other times I played him.
"I didn't want to give him the same look each time. I wanted to put pressure coming into the net, using my strength, which is my ability at the net."
Pospisil joked that his lowly current world ranking was due to a "mid-life crisis" that saw him endure a lean 2016, after he made the Wimbledon quarterfinals in 2015.
Last year Murray was beaten in the third round, but he was hoping for much better as he arrived fresh off his 45th career ATP title in Dubai.
"I don't know exactly why it is, because in practice here normally I play pretty well," Murray said.
"Some years I've played well, but some years it just hasn't quite happened for me. I don't know exactly why that is."
'Disrespectful'
Meanwhile, former world No 1 Caroline Wozniacki said on Saturday that Maria Sharapova's return from a 15-month ban at Stuttgart next month is "disrespectful" to other WTA players.
The tournament will already be underway when five-time Grand Slam champion Sharapova's suspension ends on April 26, and she'll play her first match that day.
"I think it's very questionable, allowing a player that is still banned to play a tournament that week," Wozniacki said. "I think it's disrespectful to the other players and the WTA."
Wozniacki said she had no problem with Sharapova, whose ban for a positive test for meldonium was reduced by the Court of Arbitration for Sport, returning to the game.
But she said the Russian star, whose world ranking has been wiped out by her absence, should play her way back into tournaments.
"I think everyone deserves a second chance, and I think that she's going to come back and she's going to fight her way back," Wozniacki said.
"I'm sure she's going to play well. But at the same time, I feel like when a player is banned for drugs, I think that someone should start from the bottom and fight their way back, because it's different from an injury.
"When someone has been banned for something that is performance-enhancing, I think they deserve a second chance like everybody else. People make mistakes. But I think you should fight your way back from the bottom."
Agence France-Presse
Most Popular
Highlights
What's Hot