Laid-up Lang not courting any desk jobs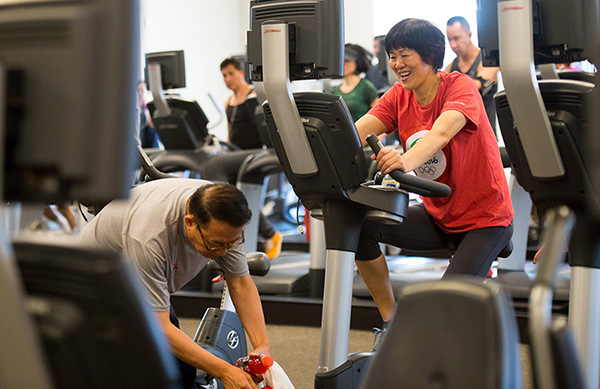 Encouraged by her husband Wang Yucheng, China's women's volleyball coach Lang Ping puts in some pedal time to recover from a hip replacement in Los Angeles. [Photo/Xinhua]
Olympic great hopes to return to coaching
She might be laid up right now, but Lang Ping still prefers the hands-on approach.
The volleyball icon reckons it's on the court, not in the office, where she can best help her sport.
NBA legend Yao Ming last month became president of the Chinese Basketball Association, but Lang has ruled out following him into sporting governance.
"I haven't considered being the president of the Chinese Volleyball Association. I would rather study volleyball techniques than become an official," the 1984 Olympic champion said at her Los Angeles home, where she is recovering from a January hip replacement.
As coach of China's women's team, Lang guided a new generation of volleyball stars to gold at the Rio Games last year.
The Tianjin native, who will also have her left hip replaced later this year, plans to return to Beijing to "offer suggestions in building a new national team".
But whether or not she continues to helm the women's national team is, she admits, up to her doctors.
"With poor physical condition, it would be irresponsible to continue to be the head coach. Being coach requires strength, attention and time," Lang said.
"It seems impossible for me to coach this year."
There is hope, though.
Lang's rehabilitation, which involves bike riding, strength training, stretching and swimming, has gone better than expected.
"I couldn't swim the breaststroke for many years due to hip injuries, but now I can do it very well, without any pain," she said.
Li Quanqiang, director of China's volleyball administrative center, visited Lang after her surgery in Chicago and is hopeful she'll return to the national team sooner rather than later.
"The most important thing for coach Lang is to recover from surgeries. We had a very good talk, and I am sure she will return as China's coach," Li said.
China is considering a number of reforms to its domestic volleyball leagues, including expanding the season to five months, adding more teams, bringing in video replay and restoring All-Star games.
"With more teams and more professional players, the national teams can have more choices," Li said.
While China's women spiked their way to Olympic glory, the men's team failed to qualify for either Rio or the 2012 London Games.
Li said a foreign coach could be hired in a bid to revive the men's fortunes.
"The search for a high-level foreign coach is ongoing," she said.
Meanwhile, Lang would like to see volleyball heighten its profile in China, especially in schools.
"China should attract more teenagers to play volleyball, just as Italy, the US and Brazil do," she said.
As for her famous basketball counterpart, Yao, Lang is sure his CBA appointment bodes well for the sport.
"Yao has NBA experience, he is young, sagacious and courageous," she said.
"I believe he and his colleagues will push Chinese basketball to a new level."
Most Popular
Highlights
What's Hot