Lost in the Woods
Tiger's tale still overshadows Tour's more compelling storylines
Tiger Woods skipped his hometown tournament for the first time in 2002 to recover from a virus.
That prompted a Los Angeles Times columnist to ask players at Riviera an annoying question: Why would anyone come out to watch if Tiger wasn't playing?
Among the victims that day were defending champion Robert Allenby ("Then don't come; stay home!") and two-time Riviera champion Fred Couples ("That's the most ridiculous question I ever heard!").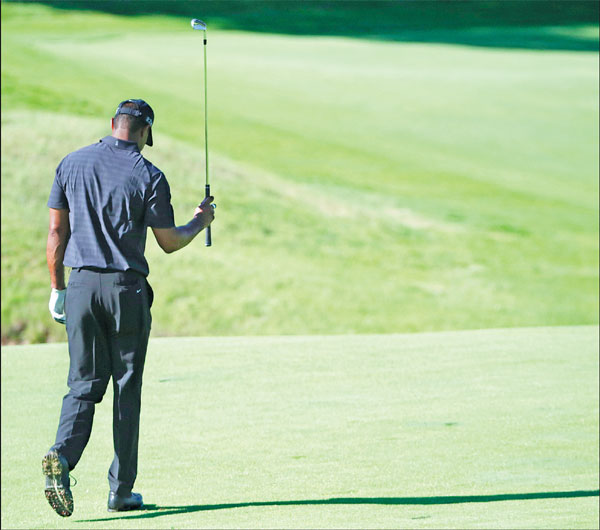 The irritation was understandable.
Fifteen years ago, Woods was golf. A year earlier, he had become the first player to sweep the four majors, starting with a 15-shot victory in the US Open at Pebble Beach.
Months later, he won the first two legs of the Grand Slam. It seemed all anyone cared about was Tiger Woods.
Now?
The question, while still reasonable, no longer seems as relevant. But Woods remains the Tour's big story.
"I'm here, and I'm insulted that's not enough," Paul Casey said, the sarcasm easily detectable through his laughter.
Why watch?
The simple answer is because Riviera is as good as any course the PGA Tour plays, and the field at the Genesis Open is the strongest of the year.
Jordan Spieth is coming off a victory at Pebble Beach. Jason Day is trying to keep Dustin Johnson and Hideki Matsuyama from taking his No 1 world ranking. Adam Scott and Sergio Garcia are playing for the first time in America this year.
They are among eight of the top 10 players in the world, a list that doesn't even include defending champion Bubba Watson.
While Woods is No 693 in the world, what matters far more is that he spent 683 weeks at No 1. That record, much like his 142 consecutive cuts, isn't likely to ever be matched.
So, yes, he's still very much a story.
Woods stopped playing Riviera in 2006. While the tournament gave him his first sponsor exemption in 1992 and he grew up just 45 miles away, he only had one serious chance at winning. He was scheduled to return this year because the Tiger Woods Foundation now runs the tournament.
But he pulled out last week.
Woods was sidelined for 15 months recovering from three back surgeries when he made a soft return in the Bahamas at an unofficial event against an 18-man field with no cut.
He then missed the cut at Torrey Pines, flew to Dubai and withdrew after a 77 because of back spasms. He said the recurring spasms would keep him from playing this week and next week at the Honda Classic.
His absence at Riviera is jarring only as it relates to the future. Questions have shifted from how he will fare to when or if he can play again.
Woods still draws the most attention - as evidenced by the crowds lined up from tee-to-green at Torrey Pines a few weeks ago.
So why watch?
"Fifteen years ago I wouldn't say there was no reason. You still had great players," Pat Perez said.
"But you didn't have anyone like Tiger. Golf, in my opinion, has totally changed. Tiger is such an 'if' that I don't think we'll see him for six months. Jordan, Jason and all these young kids, they're taking over.
"But they're not going to catch him. Even combined, they're not going to catch him. Tiger is the needle. Anyone who argues that is crazy. But it's almost like seeing Bigfoot now. You don't know when you'll see him."
There's still a difference between great golf and a great golf attraction.
"There is a needle factor," Geoff Ogilvy said. "Tiger was the only guy to move that needle outside the golf world. Arnold (Palmer) did a little bit. But Tiger was on the cover of Sports Illustrated and Time, he was athlete of the year. He did stuff no one had ever done, and the world took notice. They didn't take notice of golf, they took notice of Tiger."
Why would anyone come out to Riviera this week?
To see a great course and a group of young players that Woods inspired.
In the three years since Tiger last had an injury-free season, four of the top six players in the world, still in their 20s - Day, Rory McIlroy, Matsuyama and Spieth - have combined for 36 victories worldwide and five majors.
They are definitely worth watching.
Most Popular
Highlights
What's Hot