Andy offers Roger sweet advice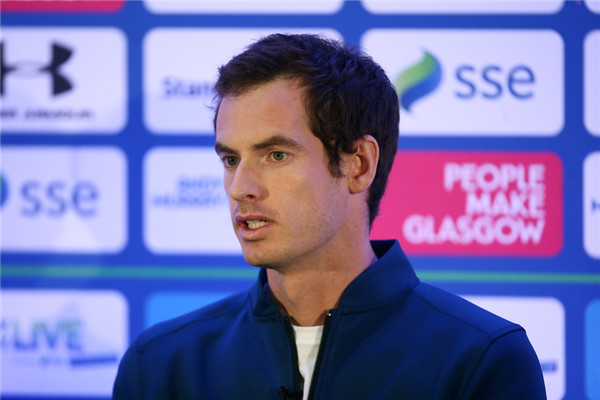 World No 1 Andy Murray speaks at a Tuesday media conference in London after announcing he will square off against Roger Federer in a November charity event in Scotland. [Photo/VCG]
Murray warns rival of 'horrific' taste treat ahead of charity match
Andy Murray warned Roger Federer to avoid sampling the questionable delights of a "horrific" deep fried chocolate bar stuffed with caramel after the tennis great accepted an invitation to play in Scotland for the first time.
Scottish star Murray will face Federer in a charity exhibition match in Glasgow on Nov 7.
Scotland is notorious for having one of the worst average diets in Europe, with the deep fried candy bar - shoved into hot oil and coated with the kind of batter more commonly seen covering fried fish - one of its most infamous dishes.
Murray and Federer might be rivals most of the time, but that didn't stop the 29-year-old from offering his Swiss visitor some advice about the local cuisine.
"Don't try the fried (candy) bars," Murray said. "I tried one of them for the first time last year and it was horrific. Stay away from them."
Federer won his 18th Grand Slam singles title at last month's Australian Open, beating old foe Rafael Nadal in a Melbourne final few pundits had foreseen.
Murray, by contrast, was bounced in a stunning fourth-round loss to unheralded Mischa Zverev.
Federer's success in Australia, at the relatively advanced age of 35, came following a long injury layoff and a self-imposed break.
Double Olympic champion Murray, 29, said he might now reduce his schedule in a bid to prolong his career.
"It's incredible what Roger did in Australia after such a long break," said Murray, a three-time Grand Slam winner.
"We play so much, a lot of the year. Sometimes coming to events fresh can be a huge advantage.
"He and Rafa were both coming back from a pretty significant period of time out and they both played extremely well. Maybe that's something we can all learn from."
Federer decided to take up Murray's invitation after the Scot took part in the Swiss ace's charity event last April.
Such is Federer's global popularity that sellout crowds at Glasgow's 10,800-capacity SSE Hydro are expected.
"I saw a little video where he was wearing a kilt when he was announcing that I was going to play in his event over in Switzerland," said Murray.
"He's returning the favor in November. It's really good he's doing it. He's just an extremely popular guy - and one of the greatest that's ever played the game.
"It's not just how much he's won, but the way he plays and how he carries himself. He's a tremendous ambassador for our sport all around the world."
Federer will be helping raise funds that will be shared equally between the United Nations' children's fund and a Scottish charity.
"Last year was such a fantastic night and to raise so much money for UNICEF and (Glasgow-based) Young People's Futures in our first year was amazing," said Murray, a UK ambassador for UNICEF.
"This year is going to be even bigger and better and I am so pleased to be able to bring Roger to play in Scotland for the first time."
Most Popular
Highlights
What's Hot