Zlatan zaps 'kindergarten' critics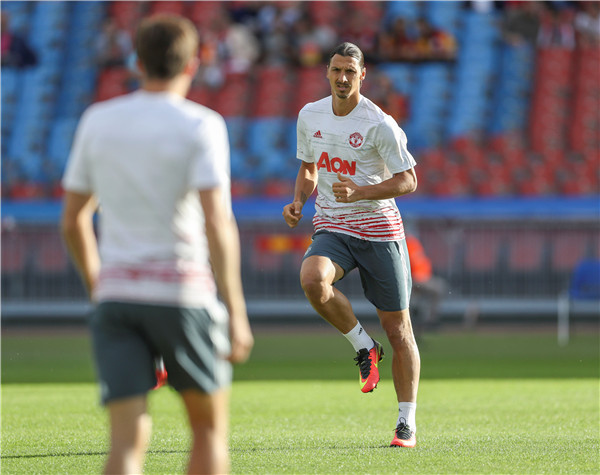 Manchester United's Zlatan Ibrahimovic warms up before the match on July 30, 2016. [Photo/Agencies] 
United star says self-pressure far more intense
Zlatan Ibrahimovic on Monday dismissed media pressure as "like kindergarten" compared to the pressure he places on himself every time he suits up for Manchester United.
The 35-year-old Swedish striker - who has defied the skeptics who thought he was too old to flourish at United by scoring 14 goals in 20 Premier League appearances - said the pressure he places on himself is so immense because nothing less than winning counts.
Ibrahimovic, who joined United last season after a hugely successful time at French champion Paris Saint-Germain, netted United's late equalizer in Sunday's 1-1 draw with Liverpool.
The result ended United's six-match winning streak and leaves it 12 points behind leader Chelsea.
"I think the pressure I have all around me is nothing compared to the pressure I put on myself," said Ibrahimovic.
"I really want to be more than perfect, every game, even in training. I'm not happy if I don't win in training, so imagine what it's like in the games.
"That is the pressure I put on myself, and so your (media) pressure becomes like kindergarten for me.
"My pressure is really high. I'm not satisfied until I get what I want. What I want is to win."
Ibrahimovic, who retired from international soccer following a disappointing Euro 2016 finals, defended teammate Paul Pogba after the world's most expensive player was slammed for his below-par performance against Liverpool.
Ibrahimovic said although he didn't know Pogba that well he felt the 23-year-old could handle the flak.
"Pressure is something I enjoy," said Ibrahimovic.
"I don't know Paul personally to be able to answer that for him, but I think he likes it also because, without pressure, we would not be on our toes at the top level.
"If you want to play at the top, pressure is 24 hours, and if you play well or better the pressure becomes even greater.
"So it's something that we learn from and something we have to handle because we belong to the top, Paul belongs to the top absolutely and the pressure will be there."
Pogba's poor showing came on the day the Old Trafford hoardings promoted his #Pogba Twitter hashtag, with the France international's very own emoji displayed on advertising around the pitch.
Ibrahimovic said it was easier when he started playing, as social media was not part and parcel of life.
"I think football is like that today. With the social media, the media building up the game," said Ibrahimovic.
"When I started to play football there was no social media, none of these things.
"But it's part of the game now. What is too much, what is too little?
"We don't know. We just follow the game. We are professional, we train, try to do our best every game."
Ibrahimovic suggested the reason the game passed Pogba by was because it was not really played in midfield due to the number of long balls being pumped forward.
"For Paul the game was different," Ibrahimovic said.
"It was a dirty game, we had to be more direct by jumping over the midfield because the pressure Liverpool put on us was hard.
"The first game against them was the same. The guys told me every match we play against Liverpool looks like this."
Most Popular
Highlights
What's Hot