Tianjin Quanjian still looking at Chelsea's Costa
Chinese Super League soccer club Tianjin Quanjian wants unsettled Chelsea striker Diego Costa and is willing to pay him 30 million pounds ($37 million) a year, despite a recent change in rules by the Chinese Football Association limiting the number of foreign players on the pitch per side to three.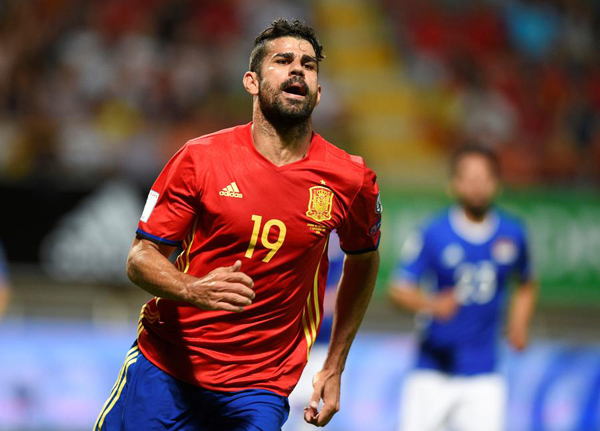 File photo of Diego Costa.  [Photo/Agencies]
Experts believe five foreign players, of whom one must be Asian, are still permitted in a squad under the Chinese rules.
Costa, Brazilian-born but now a naturalized Spaniard, scored 46 goals in 73 appearances for Chelsea since joining from Atletico Madrid in 2014, but as Chelsea chase the English Premier League title he has fallen out with manager Antonio Conte, who dropped him from the first team squad and banished him to train on his own.
"Conte is in full control of squad matters and will have the final say over Costa," wrote Matt Law, the Daily Telegraph's football correspondent.
"Conte is likely to sanction his sale in the summer," Law added. Adding fuel to the reports, Costa is represented by so-called super-agent Jorge Mendes, who was photographed last week meeting Shu Yuhui, chairman of Tianjin Quanjian. Mendes also represents Cristiano Ronaldo, the Portugal and Real Madrid star. Tianjin Quanjian has room for one more foreign player, even under the new rules.
According to UK media reports, Tianjin Quanjian is prepared to pay Chelsea 80 million pounds to buy out the remaining two-and-a-half years on his contract, and would pay the player himself wages of 570,000 pounds a week. Shu was quoted in the London Evening Standard as saying Costa has to make up his mind because the summer would mean the Chinese season was halfway over. "We can't wait so long."
Currently he earns 150,000 pounds a week with Chelsea, and recently rejected a new contract which would pay him 200,000 pounds a week.
"Initially Costa's agent was believed to have used the China angle as a negotiating tactic. But remember you are dealing with a pretty tough character in Chelsea owner Roman Abramovich, and it all went pear-shaped for Costa," said Steve Pearman, a soccer fanzine contributor.
"I am pretty sure the China deal will eventually go through," he said.
Most Popular
Highlights
What's Hot