China's soccer authorities toughen controls on foreign players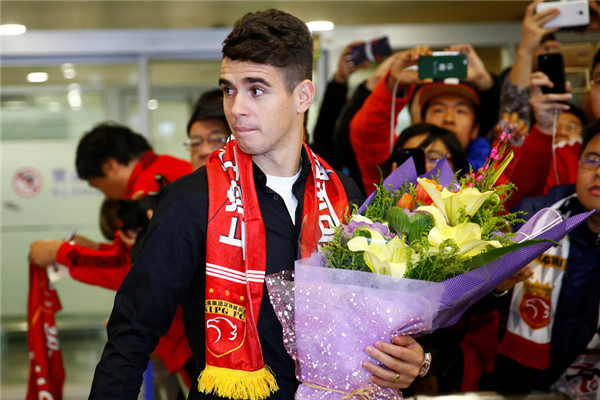 Brazilian international midfielder Oscar arrives at the Shanghai Pudong International Airport, after agreeing to join China super league football club Shanghai SIPG from Chelsea in Shanghai, China, Jan 2, 2017. [Photo/VCG]
Teams in Chinese Super league (CSL) will be only allowed to deploy three foreign players in one game, the Chinese Football Association announced on its official website on Monday.
The soccer watchdog also said that teams should have two Chinese U23 players in their 18-member lineup, and should field at least one of them.
However, each team can admit five foreigners in their squad.
The measures come as high-profile players sign multimillion contracts to join CSL'S new season starting in March.
This includes former Chelsea star Oscar's new deal with Shanghai SIPG. The figures cited in British media would make Oscar the world's highest paid player earning about $490,760 a week. Argentina's Carlos Tevez has signed a two-year agreement reportedly worth $762,000 a week with Shanghai Shenhua.
Earlier in January, a spokesperson of China's sport authorities said that the country would set a ceiling on the number of foreign players in a team and on their salary in an effort to cool the red-hot market for foreign soccer talent and foreign club acquisitions.
Most Popular
Highlights
What's Hot