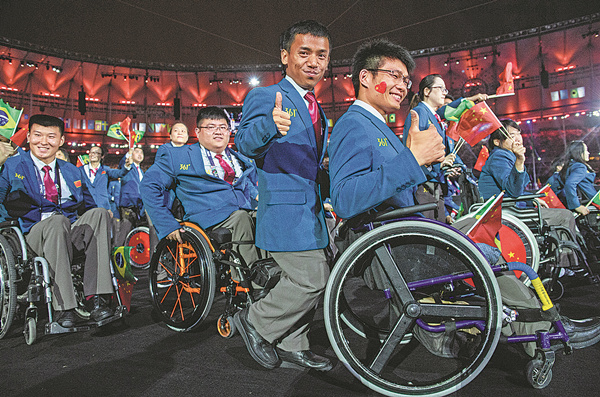 Members of China's delegationenter during the opening ceremony of the Rio 2016 Paralympic Games at Maracana Stadium in Rio de Janeiro on Wednesday. YASUYOSHI CHIBA / AFP
The Chinese delegation to the Rio 2016 Paralympics, which opened in Brazil on Wednesday, features nearly 500 people including athletes, coaches and officials and is well-prepared for the challenges ahead, officials said.
"Everyone is happy at the village, and we are all looking forward to the Games. It's been a smooth process moving in," said Team China administrative assistant Huang Ying.
China has sent 308 athletes to compete in 328 events in 17 sports, marking the largest number of athletes and events ever for the Chinese in Paralympics.
"We come here with friendship and the love of our motherland," said Zhang Haidi, chef de mission of the Chinese delegation. "The athletes will do their best in the Games."
At the London 2012 Paralympics, China won 95 gold medals and 231 medals in total. It topped the medals tally for the last three Paralympic Games.
Sitting volleyball player Lyu Hongqin is a star of the team that won the gold at the London Paralympics. "We've been here (in Rio de Janeiro) a few days already, and it's good to move in," she said. "The services have been good. We're happy, and everything is fine."
"We were champions in 2012 and I hope we can do it again. There will be lots of television coverage back home, and I know many people are expecting us to win again," she added.
Paralympic swimmer and seven-time gold medal winner Xu Qing will participate in his fourth Paralympics. "After a long flight, I feel a bit tired. But I'm still excited for my fourth Paralympics. I will spare no efforts for good results," he said.