Share prices of companies related to volleyball spiked on Monday after China's women's volleyball team won gold at the Rio de Janeiro Olympics on Sunday and people across China celebrated the victory online and offline.
Analysts said companies producing volleyball equipment and companies that have advertisements featuring Chinese women's volleyball team members and coach Lang Ping will benefit from the victory.
Yu Jie, an analyst with Sinolink Securities Co, said in his latest research note that the sponsors of China's women volleyball team will benefit from the "volleyball effect" in the short term.
"The victory will not only boost investor sentiment, but also push up the sales revenue of the products of related companies," Yu said.
The share price of Shenzhen-listed Double Elephant Group Co, a major supplier of synthesized leather, a key material for making volleyballs and athletic footwear, rose 10 percent to 26.83 yuan ($4.02), its daily limit, on Monday.
Shanghai-listed Bright Dairy & Food Co saw its stock rise 4.36 percent to 15.56 yuan. The dairy company's TV commercial for its yogurt, which featured volleyball team members and Lang Ping, was broadcast nationwide during the Rio Olympics.
National television audience data showed that more than 70 percent of viewers tuned to the women's volleyball final on Sunday, a rating higher than that of China Central Television's annual Spring Festival Gala.
Lang has become the first to win volleyball gold both as a coach and a player. She and her teammates helped China win their first Olympic gold in volleyball in 1984 at the Los Angeles Olympics,
The share price of Shanghai-listed Zhejiang Sha Pu Ai Si Pharmaceutical Ltd spiked 2.48 percent to 44.96 yuan on Monday. The eyedrop maker has been showing a TV commercial featuring Lang for more than a year.
"Consumers are very likely to consider brands with China's women volleyball team members and Lang as celebrity endorsers as smart choices, particularly for food, beverages and health-related products. The volleyball team's spirit lies in its strength, wisdom, perseverance, never giving up and indisputable power to stand until the last second, and that's exactly what you want to gain from health-related products," said Michelle Tang, a branding consultant with Shanghai-based Tang Yue Culture and Communication.
wuyiyao@chinadaily.com.cn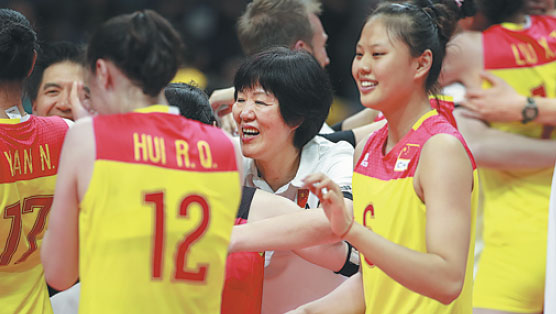 Lang Ping (center), coach of China's women's volleyball team, celebrates with her team members after the team won gold at the Rio de Janeiro Olympics on Sunday. Xinhua