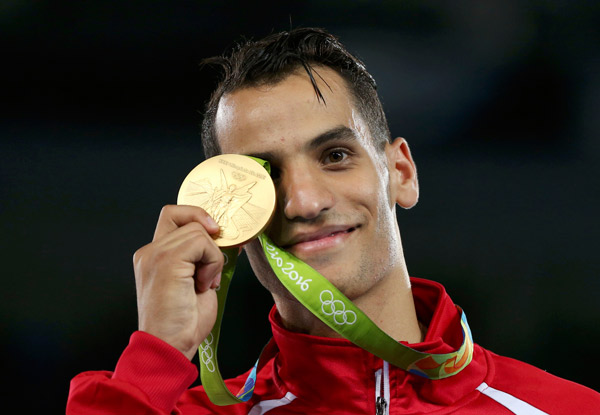 Ahmad Abughaush (JOR) of Jordan poses with his medal on the podium. [Photo/Agencies]
RIO DE JANEIRO - Unknown Ahmad Abughaush won the first ever Olympic gold medal for Jordan in men's 68 kg taekwondo final here on Thursday.
Abughaush, who had never stood on the podium of any major events before, defeated Russia's Alexey Denisenko 10-6 in the final. The 20-year-old reached the final by edging Spain's Joel Gonzalez Bonilla, who topped the men's 58kg at London 2012 in the semifinals.
"It's an indescribable feeling to win the first medal in the history of Jordan in all the sports. It's also a great feeling to listen to the national anthem of Jordan being played in Rio in front of the whole world," Abughaush said.
After a scoreless first round, Abughaush earned a quick point and kept the lead into the last round. Then he scored six points in a row to seal a 10-6 historical victory.
"(Prince of Jordan) said congratulations. He said he was very happy and he was telling me about how all of the people of Jordan are very happy and are even shedding tears of happiness for me," Abughaush added.
In the bronze medal contests, Lee Daehoon of South Korea overcame Jaouad Achabof Belgium and Joel Gonzalez Bonilla defeated Venezuela's Edgar Contreras.
Britain's Jade Jones retained women's 57kg title after crushing Spain's Eva Calvo Gomez 16-7 in a thrilling final.
Jones claimed GB's first Olympic gold medal in taekwondo at London 2012. The 23-year-old now is the first woman with multiple Olympic medals in this event.
"I was just so proud of myself for getting to the final again, so I just felt, you know the pressure's off I can just absolutely go for it. I wanted to become a legend, a double Olympic champion at 23 years old. I can't believe it," said Jones.
Jones dominated the final as she took the lead in the first round 6-0 with two head kicks, but the match got close after Calvo Gomez cut the deficit to 5-6 at the end of the second round. The pair traded cut kicks at the start of the final round before Jones landed two head kicks and a body kick to take a 15-7 lead to defend her Olympic title.
Hedaya Wahba of Egypt beat Raheleh Asemani from Belgium for the bronze before Kimia Alizadeh Zenoorin of Iran defeated Sweden's Nikita Glasnovic to became the first woman representing Iran to win an Olympic medal in any sports.