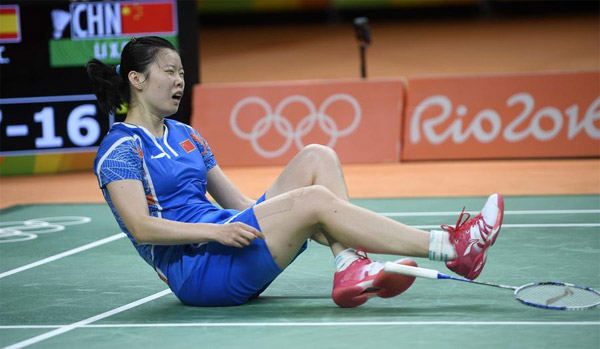 Chinese player Li Xuerui fell down due to a leg injury during the women's singles semifinal, Aug 18. [Photo/Xinhua] 
RIO DE JANEIRO - The Chinese shuttlers suffered a triple-strike as the defending champion Li Xuerui, women's doubles duo Tang Yuanting/Yu Yang and men's doubles Chai Biao/Hong Wei were defeated by their opponents on Wednesday at 2016 Rio Olympic Games.
Li, failing to pass through the top seed Carolina Marin of Spain in the semifinal, picked up a leg injury and couldn't make the bronze medal match to worsen the situation for the Chinese team.
Having strained her left knee in the second set, Li managed to finish the semi but lost 21-14, 21-16.
Later examination showed that Li tore her anterior cruciate ligament (ACL) and also had injury in lateral meniscus, said Chinese head coach Li Yongbo.
India's PV. Sindhu, who defeated Japan's Nozomi Okuhara 21-19, 21-10 in the other women's singles semifinal, will compete for gold with Marin on Friday.
Earlier, Tang and Yu, performing far under their normal level all throughout the game, were defeated by South Korea's Jung Kyung Eun/Shin Seung Chan 21-8, 21-17 in just 40 minutes.
Three-time Olympian Yu admitted that the semifinal defeat was still affecting her.
"It's hard for me to recover from the semifinal defeat, and I know I didn't play well," Yu said. "It means a relief as all the matches finally finished. It's the last match to me although I felt sorry for everything."
China's Chai/Hong also missed podium after losing to Britain's Marcus Ellis and Chris Langridge 18-21, 21-19, 10-21 in the men's doubles third-place play-off.
"We have fought to the last match no matter what the result is. I'm thankful for my partner's hard work and cooperation in the past four years," said Chai.
Later on Thursday, history-making Danes Christinna Pedersen/Kamilla Rytter Juhl were edged by top seeds Misaki Matsutomo/Ayaka Takahashi in the women's doubles final, losing 18-21, 21-9, 21-19 to the Japanese duo. It was the first badminton gold medal for Japan.