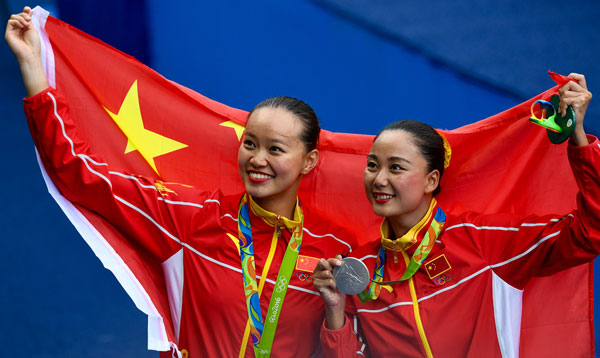 China's Huang Xuechen (left) and Sun Wenyan pose with their silver medal after the synchronized swimming duet free routine at the 2016 Summer Olympics in Rio de Janeiro, Brazil, August 16, 2016. [Photo by Wei Xiaohao/chinadaily.com.cn]
Chinese synchronized swimming team shows its top-level ability once again and is confident of shaking Russian dominance after Huang Xuechen and Sun Wenyan won a silver medal in duet synchronized swimming at Rio Olympics.
The Chinese pair got second highest score of 192.3688 with their performance in free and technical routines, following the Russian champions' 194.9910 points. It is also the team's best result at Olympic Games.
The coach, Mayuko Fujiki from Japan, has added some innovative changes in movement arrangement and music, making the show more powerful and with stronger artistic attraction.
"What we want to show is aspiration. The adding of Chinese elements such as Peking Opera expresses our aspiration for a better life and a better result," Sun Wenyan said.
Russian pair Natalia Ishchenko and Svetlana Romashina claimed the gold medal with their perfect performance, maintaining Russia's streak of gold medals in this event since the Sydney Olympics in 2000. Japan's Yukiko Inui and Risako Mitsui came third with 188.0547.
Like China's dominance in table tennis, Russia has been an unbeatable legend in synchronized swimming for a long time. The European country's comprehensive advantage in technique, execution and artistic expression is hard to go beyond in short run. And the two Chinese girls are very clear about the status quo.
"We are pretty satisfied with our show and we didn't let the Russian's high score affect us. We just wanted to do our best," Huang Xuechen said, adding that movement arrangements and execution play a key role in surpassing the Russian.
"We still need to make breakthroughs in the free routine program as we are pretty close to them in the technical routine. And improvements in movement execution are also needed," said Huang.
"We have always dreamt to beat Russia and we hope to do better four years later. The arrangement of Chinese elements is aimed to highlight Chinese culture and distinguish ourselves from the Russian," said Sun Wenyan expressings her desire to be No 1.
The bronze medalists, the Japanese team, also made great achievements and showed their goal for 2020 Tokyo Olympics after Masayo Imura, former Chinese team's head coach, returned to Japan.
"We made our progress step by step under the guidance of coach Imura. Now that she has returned to Japan, we are pretty sure about what she will bring to Japanese team," Sun said
Imura helped Chinese team win a bronze medal in duet synchronized swimming and silver medal in team's duet synchronized swimming at London Olympics four years ago.
"The next Olympic Games will be held in Japan and the Japanese have more impetus than us as they are eager to have a better result at their home land. We just need to do our best, keep calm and carry on," Huang Xuechen said.