Most athletes would be floored by the realization they had just won a historic double Olympic gold medal, but Britain's Max Whitlock said he was just doing his job and is keen to get back to the gym.
Whitlock ended his country's 120-year wait for a gymnastics gold medal by winning the men's floor title on Sunday before claiming a second gold less than two hours later on the pommel horse.
Making it even sweeter for Britain, compatriot Louis Smith grabbed silver on the pommel horse - a repeat of their 1-2 finish at the 2015 world championships in Glasgow.
"It was really cool to see two (British) flags rise up there, it's just an amazing feeling," Whitlock said.
"It's such a proud feeling to hear your national anthem being played and just stand there with Louis, one and two again, like at the world championships."
Whitlock, 23, is no stranger to record-setting wins. Last year's gold ended Britain's 112-year hunt for a men's world champion. He also took bronze this week in the all around, which was won by his idol, Kohei Uchimura of Japan.
Despite winning his first gold in the floor exercises, he did not have time to enjoy the moment as his day was only half over.
"I couldn't really take in what I'd done on the floor. I had another job to do on the pommel horse and I had to go back and refocus and get warmed up for that," he said.
Now that he has had time to take it all in, Whitlock said he will take a short break but would soon be back in the gym.
"There's always stuff for me to learn. As I say after every competition, it motivates me even more to get back in the gym and learn more stuff, and I feel that way now," he said.
However, he does have one regret from Rio.
Whitlock said he does not watch others compete, in order to keep his focus and stay calm. That meant he was unable to view Uchimura's final routine.
"He's one of those elite superstars. The reason why I idolize him is that he delivers every time," Whitlock said.
"That was quite tough, not having the pleasure of watching him finish off his all-around title with his high bar routine."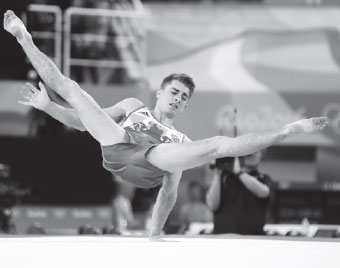 Max Whitlock of Britain competes in the men's floor exercise final on Sunday. Mike Blake / Reuters
(China Daily 08/16/2016 page5)