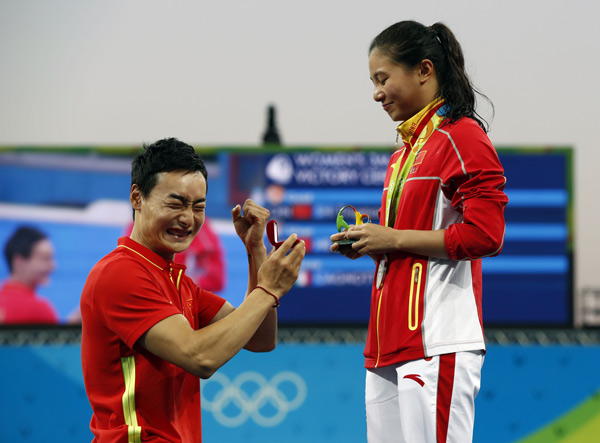 Chinese diver Qin Kai gets a yes after making a marriage proposal to his girlfriend, He Zi, on Sunday at the Rio Olympics, where she won the silver in women's 3-meter springboard. [Photo/Xinhua]
Chinese athletes might not be delivering their best-ever Olympic performance at Rio, but it seems they have improved in one sport over the years - expressing their love.
In front of a cheering crowd and broadcast live across the world, Chinese diver Qin Kai got down on bended knee on Sunday and proposed to fellow diver He Zi, who was just off the podium with a silver medal in the women's 3-meter springboard. She nodded yes.
"He made a lot of promises," He, 25, said of Qin's words, "but the thing that has touched me the most is that I think this is the guy I can trust for the rest of my life."
Qin, a two-time Olympic champion, won a bronze in men's synchronized diving.
Although romance was still taboo for some teams in the country until a decade ago, lovebirds are not so novel nowadays.
Beijing Olympics shooting gold medalists Du Li and Pang Wei became the first Chinese Olympic champion couple when they married after the 2008 Games. They had a baby in 2010.
To keep Du on track after the birth, head coach Wang Yifu even allowed the couple to take the baby to the training center.
"To see athletes training with their children would have been impossible when I was an athlete," Wang said at the time.
In Rio, Du won a silver in women's 10-meter air rifle and a bronze in 50-meter rifle three positions, while Pang got a bronze in men's 10-meter air pistol.
On the badminton court, Zhang Nan and his girlfriend, Zhao Yunlei, are two matches away from defending their mixed double title after beating Japan's Kenta Kazuno and Ayane Kurihara on Sunday.
Young players are increasingly open-minded and unwilling to be restricted, and they should be allowed to have personality, Cai Zhenhua, China's vice-minister of sports and former head coach of the national table tennis team, said a few years ago.
It is a huge departure from the days when romance was considered a distraction and discouraged by sports management.
In 2004, the table tennis team dismissed four players for romantic relationships, including then-world No 1 Ma Lin.
Thanks to the changing attitude, Qin and He don't have to choose between medals and romance.
Zhou Jihong, the team leader, said after the proposal: "I'm very touched. As athletes, both of them have very successful careers. I wish them a very sweet life together."
tangyue@chinadaily.com.cn