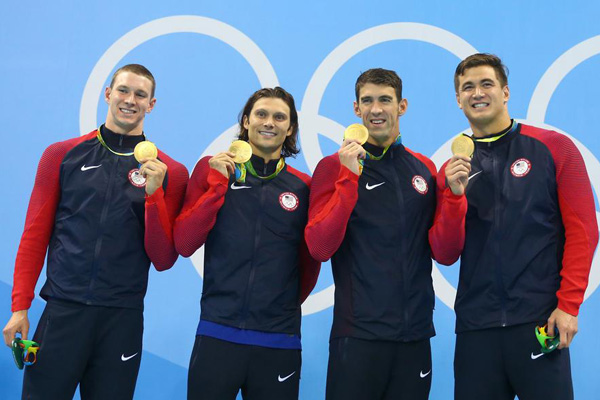 Michael Phelps (2nd R), Cody Miller (2nd L), Ryan Murphy (1st L) and Nathan Adrian (1st R) of USA pose with their gold medals after winning men's 4 x 100m medley relay swimming in Rio de Janeiro on Aug 13, 2016. [Photo/Agencies]  
RIO DE JANEIRO -- Michael Phelps secured a fairytale end to his career as an Olympic athlete as the US continued their dominance in the pool on the final night of swimming at the Rio Games on Saturday.
Phelps bagged his 23rd gold medal by helping the US to victory in the 4x100m medley relay - the last race of the competition at the Olympic Aquatics Stadium.
The USA also won gold in the women's 4x100m medley relay while Denmark's Pernille Blume and Italy's Gregorio Paltrinieri claimed the first swimming gold medals for their respective countries at these Games.
The USA team of Ryan Murphy, Cody Miller, Phelps and Nathan Adrian clocked 3:27.95, to finish 1.29 seconds ahead of Britain's Chris Walker-Hebborn, Adam Peaty, James Guy and Duncan Scott.
Australia, represented by Mitchell Larkin, Jake Packard, David Morgan and Kyle Chalmers, took bronze in 3:29.93.
Phelps began the butterfly leg with the USA in second position, but he set a blistering pace to give his team the lead by the end of his 100m.
The result gave Phelps his fifth gold medal of these Games as he extended his record as the most successful Olympian in history.
Earlier, the US team of Kathleen Baker, Lilly King, Dana Vollmer and Simone Manuel won the women's 4x100m medley in a time of 3 minutes 53.13 seconds, 1.87 seconds ahead of Australia. Denmark took bronze in 3:55.01.
Australia's team comprised Emily Seebohm, Taylor McKeown, Emma McKeon and Cate Campbell while Mie Nielsen, Rikke Moller Pedersen, Jeanette Ottesen and Pernille Bloom represented Denmark.
It was the sixth consecutive occasion that the US and Australia have occupied the first two places in the event at the Olympic Games.