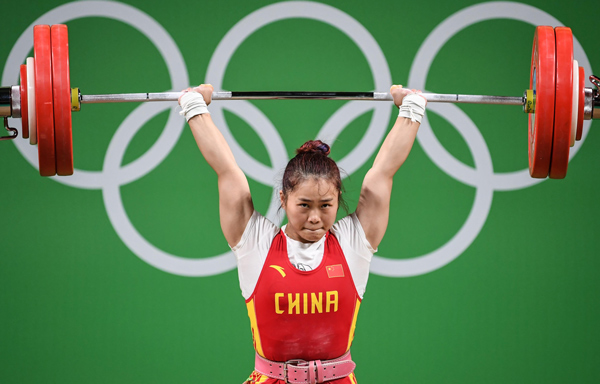 China's Deng Wei on her way to setting a world record of 262kg in the 63kg weightlifting competition on Tuesday. Wei Xiaohao / China Daily
Weightlifting champion Deng Wei showed her toughness by breaking two world records at once.
But when she's not competing, Deng said she enjoys fashion, food and shopping with her friends and teammates, just like other girls.
The 23-year-old, who stands out with her red hair and three earrings, put an ambitious 147 kg over her head in the women's 63kg weightlifting final on Tuesday, setting a world record of 262 kg, while also beating her own record in the clean and jerk by 1 kg.
With the gold medal and world records already under her belt, Deng decided not to complete her final lift, flashing a victory sign at the battery of television cameras.
"I am interested in fashion and I love reading fashion magazines for fun. So when I knew Elle China wanted to interview me, I was so excited and expected to wear a fancy dress for the shoot," she said.
The fashion magazine interviewed Deng in June, one month before she went to Brazil. Deng said she had not read the article yet, but would find it as soon as she returned home.
"It was a pity that I just wore the weightlifting suit when taking pictures for Elle, but I look good in the pictures. The makeup, you know, can make you look different and beautiful, even in the weightlifting suit," she said.
Since the interview, Deng has enjoyed regaling her teammates and coaches with stories of where her new fashion career will take her.
"Yes, I am going to find a position in the fashion industry," she joked.
"I am crazy with handbags, and I love collecting all kinds of handbags as long as they are beautiful."
Besides fashion and handbags, Deng loves sampling different foods, though she has to be careful to stay in her weight category.
"Don't tell me how wonderful the food in Brazil is, it's too painful for me," she said.
"Sure, I taste everything, definitely, of course. But only after the competition.
"My mom is good at cooking, and every time I go back home, about once a year, she cooks bamboo shoots for me, which I missed the most when I was in Beijing."
Having grown up in a small village in Sanming, Fujian province, Deng said her memories of her hometown revolve around bamboo plants and mountains.
"Bamboo plants keep their beauty and grace no matter how strong the wind is. It's also my philosophy," Deng said.
"I learned a lot from bamboo, and I am determined to compete in the next Olympics."