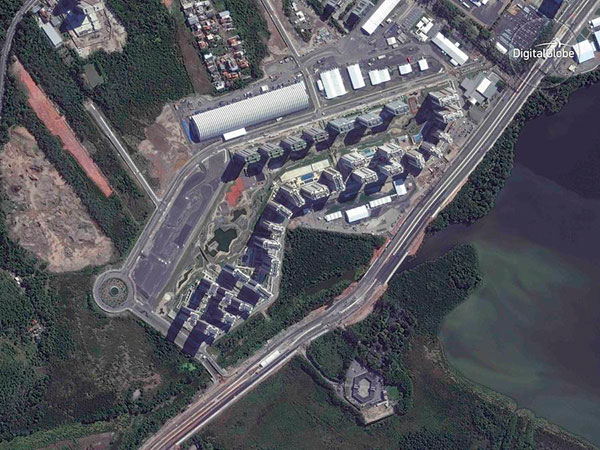 A satellite photo provided by DigitalGlobe dated June 13, 2016 of the Barra Olympic Village in Rio de Janeiro, Brazil, being prepared for the Rio 2016 Olympic Games. [Photo/Agencies]
RIO DE JANEIRO - A bus carrying journalists on one of Rio de Janeiro's Olympic transport lines was struck by bullets on Tuesday, passengers said.
Two windows were smashed and at least two people, were injured, according to local media reports.
The incident occurred on the Transolimpica bus line that links Barra Olympic Park with Deodoro Park, the two biggest venue clusters for the Rio 2016 Games.
One of those injured was a Belarusian journalist, who was hit by shattered glass, according to a passenger. A Turkish volunteer was also grazed by shrapnel.
Police said they were investigating if the vehicle was hit by bullets or rocks.
"We were travelling from the hockey venue to the Main Press Center," a photographer who was travelling on the bus said. "I was sitting at the back. There was a popping, cracking noise.
"The bus didn't come to a stop but paused. Everyone was on the floor so I got on the floor as well.