I thought the Olympic Games, no matter their venue, are meant to be sellout events. On second thought, triggered by Rio's half-empty stands, I think the world has changed.
Sunday's swimming and gymnastics had an unprecedented dimension. Competitors, especially women, from different countries supported, encouraged, hugged or consoled each other, including their rivals. Truly Olympic in spirit as well as looks.
Sunday was Friendship Day, so the Olympians, including Chinese participants, may have decided to showcase love, camaraderie and compassion, against the global backdrop of terror-related mayhem that preceded Rio.
If that was the right thing to do, what appeared trite were the events themselves. Deja vu, yes, but that quickly made way for pathos when tragedy struck some competitors.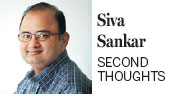 A bad landing after a superlative leap and stunning somersaults on the gymnastics dance floor brought years of rigorous training, dedication and dreams of a young woman to an abrupt, untimely end. For her, it was all over in a split second.
Worse, knees badly hurt, probably damaged, she had to be carried off the floor by her trainers. A thunderous applause from empathic spectators could barely put a smile back on the painstruck, sobbing gymnast.
Similarly, a few others missed their mark on the horizontal bar, landing on the floor instead, or could not control their momentum at the final landing after a leap and stumbled a bit, earning penalties from judges. Tears welled up in their eyes and mine.
Penalties are excessively harsh, and devalue gymnasts' fantastic display of mind-body coordination. Is there excessive stress on almost impossible perfection? Biomechanics experts should research if it's possible and safe at all for a gymnast to come to a sudden, perfect, stumble-free stop after a leap-somersault drill.
Another not-so-bright aspect is the subtle commodification of female athletes. For the first time, perhaps, most female competitors, including seemingly pre-pubescent girls, are wearing heavy makeup, including lipstick, nail polish, sparkling eyeshadow, and garish, figure-highlighting sportswear. TV cameras' extreme closeups are a distraction indeed.
Is this an official IOC policy? Or, is this IOC's devious attempt to make 21st century female sportspersons appear more feminine and delicate than they actually look, due to their almost 'masculine' features like broad shoulders, muscular body and big frames?
It could be a bigger scandal than doping, a controversy that was needlessly stretched till the Rio 2016 opening, casting a shadow on the Games.
Telecasts aren't viewer-friendly. I struggled to figure the participants' countries because the infographics would show only either the flag or an abbreviation.
Simultaneous events at an arena are a gross injustice to spectators, viewers and Olympians. Every individual competitor deserves an audience. Nothing can be more dispiriting than an audience applauding some other gymnast because their attention was not on your life's first-ever perfect 10.
Contact the writer at siva@chinadaily.com.cn