Swimmer Fu Yuanhui's bronze medal might not be the most eye-catching prize Team China has won at the Olympics, but the "prehistorical power" she displayed in placing third in the women's 100-meter backstroke has vaulted her into the global spotlight - along with some hilarious TV interviews.
Thanks to her comical comments and exaggerated facial expressions, Fu's following on Weibo, a major Chinese microblog service, has climbed from less than 50,000 fans before the Games to more than 2.7 million - and counting.
When asked by an interviewer whether she had preserved her strength after the semifinal, the 20-year-old Fu replied: "I've been utilizing prehistorical power."
It soon became an internet meme, with the video viewed 14 million times within four hours. Netizens also made various emoji with clips of previous Fu interviews.
After Monday's final, Fu said: "I used all my prehistorical power in the previous race and was too tired in the final. It is a pity I didn't win a medal."
When the interviewer informed Fu that she had in fact tied for third place with Canada's Kylie Masse, the Chinese swimmer said it was nice to share the bronze - then blamed her "short arms" for not doing better.
When asked about her unique style, Fu said: "I find it too terrible to watch when I see myself. It might be too exaggerated ... but I won't change my style. I am not doing it on purpose. I've always been like this.
"I didn't expect so many people would like me. I didn't think normal people would like my style. Their taste must be hardcore."
In a Weibo post in April, Fu said the fact a lot of people don't like her style pleases her. "If one day I become very discreet and only present a very shy smile, I will hate myself," she said.
Fu first rose to fame at last year's World Championships in Kazan, Russia, where she won gold in the 50m backstroke and also impressed fans with her sense of humor.
Early this year she was forced to take a three-month break from training with a respiratory problem, but she regained her form in time to qualify for Rio.
"Sometimes I felt I couldn't survive it; training for the Olympics was killing me," said Fu, who will be part of China's contingent in the 4x100m medley relay.
Contact the writers at tangyue@chinadaily.com.cn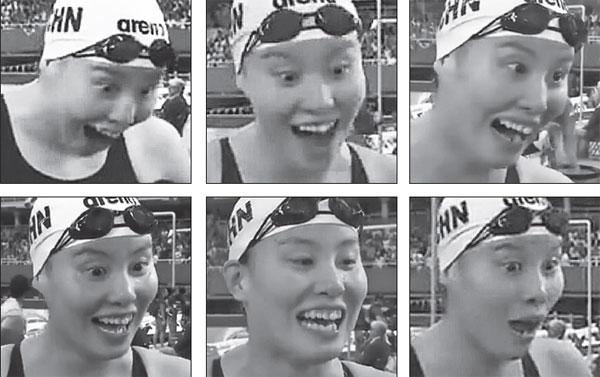 Chinese swimmer Fu Yuanhui shows a variety of facial expressions while being interviewed after she qualified for the 100-meter backstroke on Sunday. Her expressions and comments have turned her into an online sensation. Photos Provided To China Daily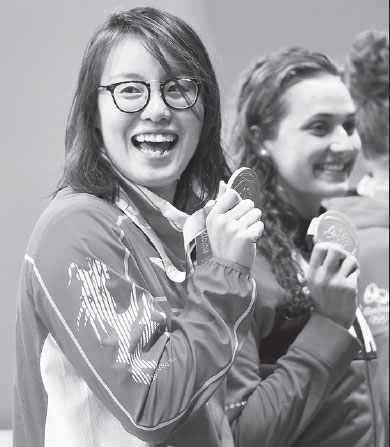 Fu Yuanhui was all smiles after winning the bronze medal in Monday's 100m backstroke final. Christophe Simon / Afp