Michael Phelps woke up on the morning of the first race of his fifth Olympics with some soreness in his right shoulder.
At 31 years old, the swimming superstar could not afford to have anything slowing him down. So he went to a Team USA athletic trainer for some cupping therapy - a treatment he has been receiving for years to help relax his muscles and ease soreness.
"The trainer hit me pretty hard with one and left a couple of bruises," Phelps said.
With large purple circles dotting his shoulder and back, Phelps delivered a performance for the ages to lead the US 4x100m freestyle relay team to victory, giving him his 19th career gold medal.
He swam the fastest 100 m of his life, a blazing 47.12 sec on the second leg of the relay that turned a slim deficit in the race against France into a comfortable lead that teammates Ryan Held and Nathan Adrian were able to hold the rest of the way.
The stirring victory - televised in prime time back home in the United States - put Phelps back on the podium and thrust cupping therapy into the spotlight.
The procedure dates back centuries and has enjoyed a bit of a renaissance over the past decade after athletes like Phelps and NFL star DeMarcus Ware and actresses Gwyneth Paltrow and Jennifer Aniston started touting its benefits.
Researchers have traced cupping's origins to China and Greece somewhere around 1500 BC.
But it's not just for star athletes. Health spas often offer the service for a few hundred dollars and the cups can be bought online for as little as $15 and applied at home.
Some in the medical community believe it's nothing but fantasy - the latest form of snake oil that tricks patients into paying for it repeatedly.
Others insist cupping aids recovery, relaxes muscles and helps an athlete maximize his or her performance.
Phelps certainly believes in it. In the end, that might be all that matters.
"I've done it before meets at pretty much every meet I go to," he said.
The treatment involves applying glass or plastic cups to the area of discomfort and either applying heat or suction to create a vacuum.
The suction pulls the skin away from the muscle and draws oxygenated blood to the area.
Prolonged suction also causes the bruising.
"I haven't had bad ones like this in a while," Phelps said on Sunday, a day after the relay.
Steve Hamilton, a massage therapist for the NFL's Denver Broncos, has used the technique for years in working with players.
He said the biggest benefits include increased circulation, decreased muscle tension, decreased inflammation, increased range of motion and improved blood flow.
"Its effectiveness is because it's all part of the body's natural healing process," Hamilton said.
"But cupping helps the body recover faster by keeping the process moving forward. It's awesome because it's all natural."
But there is a scarcity of accredited studies to prove cupping's efficacy, which has led to a fair amount of skepticism. Many doctors have called it nonsense, and others believe it is no more effective than a placebo.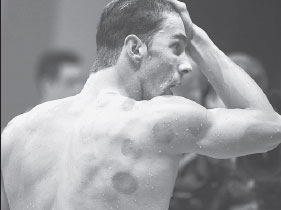 Michael Phelps reveals red cupping marks on his right shoulder after exiting the pool. Michael Dalder / Reuters
(China Daily 08/10/2016 page5)