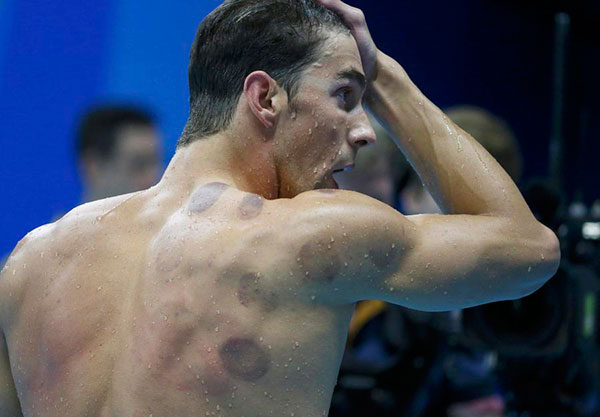 Michael Phelps of the USA is seen with red cupping marks on his shoulder as he competes during the 2016 Rio Olympics men's 200m butterfly in Rio de Janeiro, Brazil, Aug 8, 2016. [Photo/Agencies]
Olympic gold medalist Michael Phelps led American swimmers to a gold medal in the 4x100-meter relay, but what grabbed media attention and led to stories and photos around the globe were the purple and red circles on his back.
They were caused by the ancient Chinese healing treatment "cupping".
Brent Bauer, director of the Mayo Clinic Complementary and Integrative Medicine Program, said on Tuesday that he had received dozens of media requests since the prime-time showing on Sunday night of Phelps' cupping marks.
Yun Li, a licensed acupuncturist in New York, said that her clinic Asia Tui-Na NY had received many calls about cupping from potential clients. "We even had patients come in just for cupping. I treat via acupuncture mostly, but there are clients who said, 'Oh I want to just try cupping.'"
Shaobai Wang, a Chinese herbal specialist and an acupuncturist who owns two clinics in New York, said that many clients asked him about cupping after Phelps' exposure, primarily to get information on how cupping works.
"In terms of sports injuries - especially muscular ones - the best choice is cupping. It is the best choice because it is simple, effective, and easy to do without any side effects if utilized correctly. That is why in this Olympic games there are so many athletes with cupping marks," he said.
Feng Ping, a traditional Chinese medicine (TCM) doctor who has been practicing in New York for 20 years, said she had clients who talked to her on Tuesday about Phelps' cupping treatment. "Fifteen years ago, clients didn't believe [in cupping] and who would say 'next time' when [I recommended] cupping and acupuncture. Now people would like to try it. Now people know about it," Feng said.
Julie Ji, a Chinese medical practitioner and a member of the British Acupuncture Council, said that the media attention on Phelps' cupping marks was similar to people's reactions when American actress Gwyneth Paltrow showed up at a movie premiere in 2004 with the same marks on her back. Besides Paltrow, celebrities Jennifer Aniston, Jessica Simpson and others have been spotted with the marks in previous years.
Chinese Olympic athletes have also shown the same marks, she said, adding, "Perhaps Michael Phelps is learning a trick or two from the Chinese swimmers in 2008."