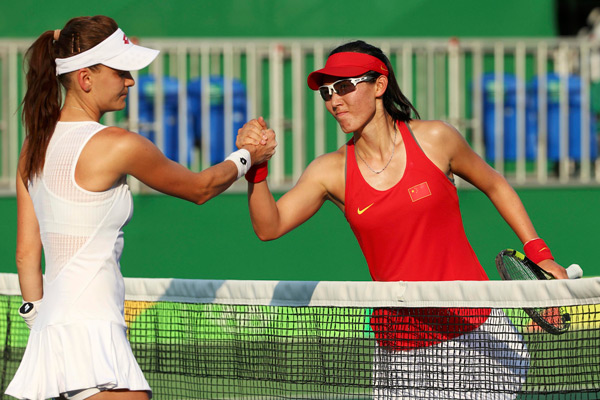 China's Zheng Saisai (right) shakes hands with Poland's Agnieszka Radwanska after winning theirmatch on Saturday. [Photo/Agencies]
Agnieszka Radwanska, a player not known for outbursts on court, had plenty of good reasons to take out her frustrations on her racket in her first-round Olympic match on Saturday.
Fifty-five of them, to be exact - the number of hours it took her to get from Montreal to Rio de Janeiro this week.
She didn't arrive until Wednesday night, leaving far less practice time than she had hoped, and then she got sick, too.
The fourth-seeded Radwanska played on the first day of the tournament and was upset by Chinese world No 64 Zheng Saisai 6-4, 7-5, - with an uncharacteristic racket smash along the way.
"It's not helping with the score, unfortunately, but at least it's good feeling that you have some power to break the racket, you know?" Radwanska said.
She spent much of last week feeling powerless against the vagaries of the airline industry. After losing in the round of 16 at Rogers Cup, shewas supposed to fly out of Canada on Monday morning.
First the delay was one hour, then two, then three.
She finally boarded the plane, only to sit on the tarmac for two more hours because the aircraft was overloaded.
The flight landed and "I was running like hell" through the terminal to try to make her connection. No such luck.
Then she was running back the other direction to try to rebook. Eventually an airline employee told her she already had a new itinerary - for Friday.
"Basically I wouldn't be on time for my match. I was looking at her (the employee) like she was kidding," Radwanska said, her face strained with exasperation at the memory.
She waited in line for hours, and spent just as long on the phone with her agent and others trying to find an alternative. The next morning, it was the same thing all over again. Meanwhile, she didn't have her luggage, which somehow was able to get on a plane to Brazil even though she couldn't.
The only way to get from New York to Rio de Janeiro was to take a little detour, through Lisbon, the Portuguese capital - about 4,820 kilometers out of the way.
Radwanska spent five hours at Newark Airport to catch the late-night flight to Europe, but even when she landed in Rio de Janeiro, the saga wasn't over. What was supposed to be a 30-minute bus ride to the Olympic Village turned into two hours, thanks to a security scare.
And perhaps not surprisingly, considering all that aggravation, she soon started to feel ill. After 55 hours of travel, her singles tournament ended in 99 minutes. Radwanska still hopes to play mixed doubles for Poland.
In the moments after her quick exit from her third Olympics, the 2012 Wimbledon runner-up couldn't find much humor in the situation.
"A lot of miles, a lot of points," she said dryly, noting that she had lost out on the chance of an award of incalculable value: "Olympic gold is forever."
Chinese duo ace first-round tests
Zheng Saisai's win over Agnieszka Radwanska was the second victory of the day for China after national No 1 Zhang Shuai saved three match points to beat Swiss 12th seed Timea Bacsinszky 6-7 (4), 6-4, 7-6 (7).
In the next round, Zheng will take on Russia's Darya Kasatkina, while Zhang will face either Germany's Laura Siegemund or Bulgaria's Tsvetana Pironkova.
Zheng, the world No 64, said she realized Radwanska had been struggling: "She didn't play her best tennis. I know she arrived late so I am really lucky."
The Chinese player had her own drama at the Rogers Cup in Montreal, losing in the first round and then accusing the tournament of being unprofessional after a blunder with the stringing of her rackets.
"Today, I was really relaxed with the happiness of playing for my country," she said.
For Zhang, the world No 51, this year has proved to be an encouraging year on tour. Her appearance in the Australian Open quarterfinals ended a depressing run of 14 first-round exits at Grand Slam tournaments, a record stretching back to the 2008 US Open.
"It was a tough match," she said. "She (Bacsinszky) had three match points. It's a big win. Point by point is just 20 seconds, so I didn't try to think too much. I just thought, 'I don't want to go home so early.' I like Rio, I want to stay here."
Veteran Peng Shuai was unable to make it three wins for China. She lost 6-4, 6-7 (5), 6-3 to Britain's Heather Watson, who will next face Ukrainian 15th seed Elina Svitolina.
Agence France-Presse