New Zealand riding legend Mark Todd is the grizzled poster boy for the hardy bunch of sixty-somethings competing in the Rio equestrian arena starting on Saturday.
Shunning convention which would have his generation buying rocking horses for their grandchildren rather than riding the real thing, Todd is appearing in his seventh Olympics.
Elected Rider of the 20th Century by the sport's rulers, the 60-year-old will compete at Rio's Deodoro equestrian center 32 years after his Olympic debut in Los Angeles, where he won the first of his two gold medals.
"I'm actually riding against children of my contemporaries," the much-admired Kiwi cheerfully said of his longevity.
"The wonderful thing about the Olympic Games is you just see people of all shapes and sizes and ages. There is no particular mold of an athlete. We all do different sports which require different things. It's wonderful to see."
While getting a little long in the tooth, Todd is by no means the oldest on the New Zealand team. That honor falls to Julie Brougham, who at 62-years young is embracing her first Games experience.
"It's quite amazing, I've created a record for my country and I haven't done anything," she shrugged, appearing alongside Todd at a media conference.
"I'm actually a judge in New Zealand, and I've judged this young man (looking over at her teammate, Jonathan Paget) beside me in dressage."
She took part in her first competition at the age of seven. Over five decades later she is finally jumping into the Olympic ring.
"I've been a little slow getting to the Olympics, but it's really been because I haven't had a good enough horse before now.
"Unfortunately, in New Zealand most of us don't have a million euros to go and buy a top grand prix horse, so we tend to train our own. It takes about six years to do that and quite often you'll find that it's just not quite international caliber, so you start the whole process again.
"But this time I've got a good enough horse to be here and I'm very proud of it."
Todd is wearing two hats in Rio, competing for his country and acting as adviser to a very young Brazilian team.
While the 2016 host is relying on youth, the same cannot be said of Britain, with some of its aging equestrians arriving in Rio on free bus passes.
John Whitaker, 60, and his brother Michael, just four years younger, team up with 58-year-old Nick Skelton, who was part of the team gold winning team in London four years ago.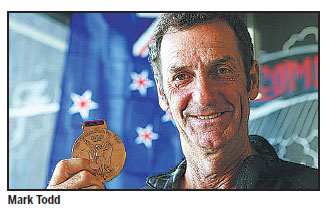 (China Daily 08/06/2016 page11)