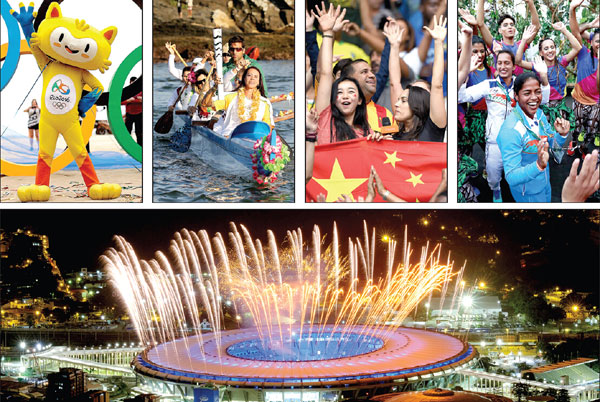 Clockwise from top left: The Rio Summer Olympics mascot Vinicius sets an exuberant tone. The Olympic torch is carried on the bay in Cabo Frio in Rio de Janiero state ahead of the Games' opening. Chinese fans cheer on Wednesday during the China-Brazil women's soccer match, which Brazil won. An Indian athlete joins Brazilians in dancing the samba. Fireworks light the night sky during a rehearsal of the opening ceremony scheduled for Friday evening in Rio de Janeiro. Photos by AGENCIES and CHINA DAILY
Beijing hopes nation's delegation expands its strong performance to wider range of sports
With final touches being put in place, the Rio Summer Games are ready to go.
As the Olympics were about to open in Rio de Janeiro with an exotic ceremony at the iconic Maracana Stadium on Friday (Saturday morning Beijing time), concerns about Rio's security, makeshift venues and coastal water pollution were still making headlines worldwide.
However, improved conditions at the Olympic Village and at competition venues, coupled with Brazil's captivating culture, were making up for any deficiencies of spectacle that Olympic Games usually feature to impress athletes from around the world.
"It's for sure not the best Olympics in terms of facilities, but what we are provided is more than OK to compete in and to enjoy the whole journey," said Xu Anqi, China's Olympic champion fencer, after attending the Chinese delegation's welcoming ceremony at the Olympic Village on Wednesday.
For Xu and the rest of more than 14,000 athletes participating in the first Olympics staged in South America, the samba dance and indigenous music performed during each delegation's welcoming ceremony offered a glimpse of Brazil's unique culture.
"We've long heard that the Brazilians are all very passionate. It seems they well deserve that reputation, and even behave beyond that," said Xu, who helped China win the women's epee team gold medal at the London Olympics in 2012.
Nonetheless, the complaint from the Australian team about poor living conditions in the village, and pictures of Chinese table tennis players refitting broken shower curtains and toilet lids by themselves, went viral online and raised concerns about Rio's readiness to accommodate such a huge group of elite visitors.
The organizing committee reacted quickly to fix the problems in the village while working against the clock to finish decorating the competition venues and testing equipment at the last minute.
The effort won over athletes. "When we arrived one week ago, it was worse. It gets better every day. I think when the competition starts, everything will be taken care of," said Austria's Gernot Rumpler, who will compete in the men's 10m air rifle.
The Chinese delegation has set its sights on delivering a more balanced athletic performance in Rio.
Vice-Premier Liu Yandong visited the Chinese athletes at the Olympic Village on Thursday, encouraging them to do their best to showcase the country's athletic prowess while making more friends at the Rio Olympics.
Liu Peng, China's sports minister and delegation chief, said Chinese Olympians expect to not only continue dominating in their strong events but also to challenge the world's best in other sports in which the Chinese previously were weak.
"We've improved in sports like collective ball games, swimming and track and field that we were not good at in the past. We hope we can deliver our progress in such sports in Rio," said Liu.